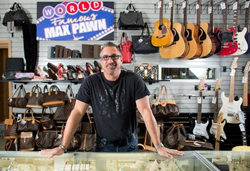 Our motto is if you aren't helping a person in line, then you are helping them online.
Las Vegas, NV (PRWEB) August 06, 2015
On Monday, August 4, Bravo eCommerce had its biggest day with 529,260 advertisement impressions, 7,337 new customers, 18,002 page views, and closed at $29,070.20 in sales. For most retailers, their biggest sales spike occurs around the holidays, but for Bravo stores utilizing the eCommerce functionality of Buya and the eBay API, everyday has the potential to bring in Christmas-like sales.
In particular, Bravo user MaxPawn had a record shattering day with over $17,000 in sales on Buya and the eBay API. They typically average two to four eCommerce sales daily and on Monday they sold a handbag for $10,500, a Cartier ring for $4,000, and an engagement ring for $2,500. On top of Monday's success, Max Pawn already had sales pending on eCommerce before they even opened their brick and mortar store's doors at 9am PST.
In reference to Monday's success, Max Pawn's owner Michael Mack says, "Our motto is if you aren't helping a person in line, then you are helping them online. It's important to be in constant contact with your customers and you can't just wait for them to walk through the door."
Besides good merchandising, Michael Mack also contributes a lot of Max Pawn's eCommerce success to the processes provided by utilizing the Bravo software. With the right process in place, he is able to better market his inventory for online selling channels and reach a wider range of customers - thus, generating record breaking sales while most stores are experiencing the summer slump.
About Bravo Store Systems:
Bravo Store Systems believes in the success of the pawn industry and strives to see pawnshops grow and compete with the national big box stores. Developed by a 4th generation pawnbroker specifically for pawnbrokers, Bravo helps companies find solutions to challenges they face with day-to-day operations. Bravo has accommodated new business startups to Fortune 1000 clients. Bravo multi-tenant currently can accommodate 65 countries.