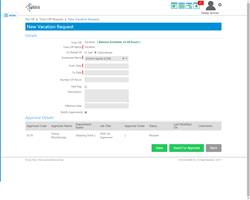 Los Altos, CA (PRWEB) August 05, 2015
The enhancements allow users additional flexibility in configuring the time and attendance module to meet organizational needs.
SutiHR, SutiSoft's human resource management software platform, has enhanced its time and attendance module to enable additional flexibility for users in configuring the software to their organizational needs. The new updates offer additional options in setting time off policies, clock in/clock out details, and more.
With online HR software that allows employees to have access from everywhere, you can automate most of the tasks making it convenient and easy. The updates resulted partially from our customers. SutiSoft works closely with its customers to implement customer requests.
Some of the updates include:
Allowing employees to apply for time off during weekends or holidays
Notifications regarding pending time off approvals/approvers
Time sheet approval workflow customization
Modifications to time and attendance reports
Improved dashboard customization
Real-time clock-in/clock-out details
Performance improvements
The updates make SutiHR more customizable and make it suitable for all organizations.
About Sutisoft:
Sutisoft provides a comprehensive suite of cloud-based business solutions for companies of all sizes. The suite includes scalable and easy-to-use solutions for HR, Payroll, Employee Travel & Expense, ERP, CRM, Document management, Business data analytics, and Electronic signature. This allows small, med-size, and enterprise customers to control costs and save time through use of integrated solutions. Headquartered in Los Altos, California, SutiSoft also has regional offices in Germany, India, and Japan. Additional information is available at http://www.sutisoft.com.