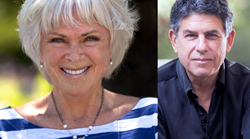 The Work is like a razor-sharp sword that cuts through illusion and enables you to know for yourself the timeless essence of your being. —Eckhart Tolle, author of The Power of Now
Woodacre, California (PRWEB) August 07, 2015
In this annual, sold-out event, Byron Katie will begin the day with a workshop designed to take attendees on a journey of self-discovery through her meditative practice of inquiry called The Work. With her wonderful humor and clarity, Katie will guide all participants, onsite and online, to identify and question the stressful thoughts that cause their particular day-to-day struggles. Onsite participants will also have the opportunity to ask questions and to do The Work with Katie. Using The Work, people find again and again that their stressful beliefs—about the world, other people, or themselves—can no longer run their lives.
After lunch, Katie's husband, Stephen Mitchell, will read briefly from his bestselling Tao Te Ching and The Second Book of the Tao, and will follow the reading by a talk about the relation between the Dharma and The Work, followed by questions and answers. Katie will join him on stage for the last hour.
Click to register for Watch From Anywhere (live webcast of the event). Online Registration for the webcast is available until the end of the event.
Byron Katie has one job: to teach people how to end their suffering. Katie has been bringing The Work to millions of people around the world for more than twenty-five years through her website (where everything you need in order to do The Work is free), public events, weekend workshops, the nine-day School for The Work, and her 28-day residential Turnaround House program. "Katie's tough love burns away all illusions"—The Times (London). Byron Katie is the author of seven books, including the three bestsellers: Loving What Is, I Need Your Love—Is That True?, and A Thousand Names for Joy; For more information visit thework.com.
Stephen Mitchell was educated at Amherst, the Sorbonne, and Yale, and de-educated through intensive Zen practice. His many books include the Tao Te Ching, The Second Book of the Tao, The Selected Poetry of Rainer Maria Rilke, Gilgamesh, The Gospel According to Jesus, Bhagavad Gita, The Book of Job, The Iliad, and The Odyssey. He also co-wrote two of Katie's bestselling books: Loving What Is and A Thousand Names for Joy.
Spirit Rock Scholarship Fund helps make the teachings of wisdom and compassion accessible to all who seek it. For more information and to donate, visit: spiritrock.org