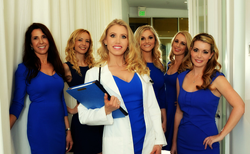 Marin County, CA (PRWEB) August 05, 2015
"The downward pull of gravity is not the only factor which makes a person look older," says Dr. Karron Power of PowerMD in Marin County, CA. "What actually makes people look older is 'deflation' caused by the loss of facial volume which serves as the skin's foundation. Many doctors now agree that evidence suggests the effects of gravity have been overstated and that the downward movement of facial skin over time is an illusion. Facial Volume Rejuvenation can restore the foundations of the face."
 
Pull up your cheeks and you may briefly remove some years from your reflection in the mirror. But is it accurate to blame gravity for the loss of youthful features? "Probably not," says  Dr. Power. "People assume that the face falls because when you pull back on the cheeks everything looks better. A close look shows that different points on the face really don't move that much."
 
"Facial volume slowly diminishes as men and women age. This causes a 'hollowed out' look in the cheek areas, around the eyes and in other areas of the face," says Dr. Power. "When volume is lost, the whole face sags. And when the underlying foundation is restored with facial fillers, the structure and youthful characteristics of the face are restored. That's what we can achieve with Facial Volume Rejuvenation."
 
Facial fillers such as Perlane, Juvederm, Radiesse, Voluma and Sculptra may be used singly or in combination to restore volume and stimulate collagen growth, says Dr. Power. Botox, Dysport and Xeomin may also be used to diminish fine lines and wrinkles, or to lift the brows without surgery.
 
Fillers are precisely injected into specific areas of the face that have lost volume, including the cheeks and to fill in under- eye bags. "Full facial contours are one of the most prominent characteristics of a youthful look," says Dr. Power.
For more information call 415.785.7995 or visit http://www.PowerMD.com
Dr. Karron Power and the team of clinicians at Power MD have developed a comprehensive method to turn back time and prevent the signs of aging. "While I and my clinicians treat existing skin issues for our clients, we also assess where the signs of aging are likely to occur next and incorporate strategic treatments and placement of topical and injectable products to prevent the next set of lines from ever happening," says Dr. Power.