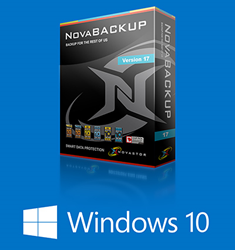 The fast adoption of new technologies and operating systems is a cornerstone of our strategy for growth."
Agoura Hills, California (PRWEB) August 06, 2015
NovaStor, an international provider of award-winning backup solutions, announced today the full support of the Windows 10 operating system as recently released by Microsoft. This continues a long-standing NovaStor tradition of rapidly supporting new operating systems. Users of the current version, NovaBACKUP® Version 17 will automatically receive a minor update their software offering full support for Windows 10 at no additional cost. Similarly, all clients who have active NovaCare support will also receive the complimentary update. For users of outdated versions of NovaBACKUP or competing products, special upgrade incentives are still available for a limited time.
Windows 10 launches with an updated Start Menu, virtual desktop functionality, the Cortana virtual assistant, and a number of other impressive features. Professionals seek out a simple and reliable backup applications such as NovaBACKUP® PC, which is ready to backup and restore critical data for workstations and laptops. NovaStor's highly praised "backup for the rest of us" approach offers comfort to those who don't have time to worry about backup as they grow accustomed to a new operating system environment.
While the Windows 10 upgrade process promises to be seamless, it is always wise to backup important files prior to upgrading to a new operating system to protect against data loss. NovaBACKUP PC allows users to back up their important laptop and workstation files to the storage device of their choice, as well as cloud destinations such as Amazon S3.
"NovaBACKUP integrators and customers can't afford to wait weeks for their backup vendor to support a new operating system.", says Mike Andrews, Managing Director at NovaStor. "The fast adoption of new technologies and operating systems is a cornerstone of our strategy for growth. The flexibility of our U.S. based engineering team to rapidly respond to change is something that competitors have had a difficult time trying to duplicate."
In addition to traditional file-backup, NovaBACKUP also offers complete system Disaster Recovery to restore entire systems complete with applications and operating system. With all server-class products including free remote "Setup Assistance", new NovaBACKUP customers get initial backup jobs running and achieve data protection from day one.
At a time when a number of aging operating systems are being retired, it's become increasingly important for software vendors to support the latest technologies. In the case of organizations that are required to meet specific compliance requirements, such as dental and medical practices under the HIPAA security rule, it is an absolute necessity. Providers of technology services to these organizations, as well as all IT integrators, can learn more about NovaStor partnership by visiting the NovaBACKUP website and reviewing the ValueCREATE! Partner Program.
About NovaStor
NovaStor® (http://www.novastor.com) is an international provider of powerful, affordable, all inclusive data-protection solutions for physical and virtual environments. NovaStor provides backup & restore solutions to small and medium business (SMB) as well as heterogeneous environments to protect data on both sides of the cloud. NovaStor's SMB solution NovaBACKUP® is rated #1 for businesses requiring local and remote protection of Windows Servers, VMware, Hyper-V and NAS environments with advanced monitoring capability, detailed reporting, and administration from a Central Management Console. NovaStor's network backup solution NovaBACKUP DataCenter brings F500 references, scalability, reliability and speed to heterogeneous environments; a single pane of glass designed to reduce administrative effort and lower TCO. NovaStor' Setup Assistance is an industry first where experts relieve clients from the complexity of installation and support. NovaStor is management-owned with over 1,000 partners, and millions of seats distributed. With global headquarters located in Zug, Switzerland and offices in Germany (Hamburg) and the USA (Agoura Hills), NovaStor is also represented in numerous other countries through partnerships.