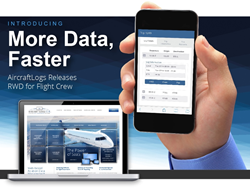 "Each year, we re-invest over 30% of our revenues in new software. Not everyone does that. RWD is one of those investments." Bret Phillips, AircraftLogs
Columbus, Ohio (PRWEB) August 17, 2015
AircraftLogs took another major step forward with improved delivery of aircraft scheduling information to mobile flight crews on the road. The new release is part of extensive software enhancements being delivered this summer and fall utilizing Responsive Web Design.
"Because we've always been a pure, web-based SaaS solution, our technology was one step ahead of older web-enabled software. With Responsive Web Design - or RWD - we're now two steps ahead," said Bret Phillips, Director of Development for AircraftLogs. "Each year, we re-invest over 30% of our revenues in new software. Not everyone does that. RWD is one of those investments."
"Responsive Web Design is the technology term for web pages which adapt and resize to any screen size," explained Jonathan Denison, Service Line Leader for Advanced Operations at AircraftLogs. While older technologies can make a web page look microscopic on a smartphone, RWD eliminates the need to "pinch and zoom" when viewing our new web pages for the flight crew."
"We worked with one of our larger clients to create the initial design," explained Denison. "Our original goal was to streamline communications to the flight crew related to upcoming trips. When we did that with RWD, we realized we could deliver more trip information to a pilot faster than any other method...without requiring them to do a manual refresh!"
With one tap on a smartphone or tablet, pilots can see their schedule and specific trip details. From that view, they can tap to dial a passenger, an FBO or anyone involved with the trip. The new release is a huge step forward - eliminating phone calls, emails and other annoyances.
We'll release more RWD tools over the next year, but the pilots come first," added Phillips. "They are the most mobile people on the planet, and we need to keep up with them."
This release is part of AircraftLogs ongoing improvements to the Flight Operations Process Model. Customers or interested flight departments who'd like to learn more can request a Software Briefing or call Jonathan Denison directly at 614-360-9435.
About AircraftLogs
AircraftLogs provides web-based aircraft scheduling software and aviation data management systems for corporate aircraft and government agencies. Based in Columbus, Ohio, its software is available on a SaaS basis (Software-as-a-Service). Additional details are available by calling 888-359-5647 or by visiting http://www.AircraftLogs.com. AircraftLogs is also a Platinum sponsor of the NBAA annual tax classes, taught by national experts in aviation tax, law, and regulatory issues and which provides CPE and CLE credits.