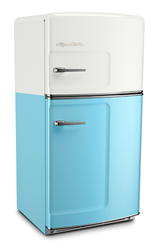 Boulder, CO (PRWEB) August 11, 2015
It's summertime and the relaxed feeling of a slower pace has taken hold. New linens come out, summer décor is added to the home and beach colors – from blues to weathered grays – are being used to create a laid-back look.
Big Chill, maker of the iconic Retro Fridge, invites you to welcome the Coastal feeling into your kitchen all year round with a beautifully-styled appliance.
A coastal color palette is one that can create a serene oasis in the home. From the bright blues and greens of accent pillows to gray and white handscraped hardwood, there are an array of ways to make your home look like a beach house, no matter the location. Add a few small touches like beach glass in a candleholder or a picture frame made out of driftwood, and your home is ready for summer all year long. Mix Old and New: Combine contemporary dining room chairs with a rustic wooden farm table. Vintage lighting can give a room coastal personality.
Don't forget the kitchen, the heart of the home, when changing up the look of your home. Big Chill's unique retro fridges are created with a stamped metal body, stunning chrome trim and an authentic, metal pivoting handle. Available in eight colors plus 200 custom colors, Beach Blue, Jadite Green and White invoke the fresh colors of the waves and sky, while Buttercup Yellow channels the sun on a warm day. Add elements to complement the kitchen's vintage fridge with weathered finds -- antique knickknacks and well-worn furniture can give any kitchen a cozy, rustic charm.
Available in both an original size and studio size, Big Chill's Retro Fridges do more than just look good. They come with a temperature management system, automatic moisture control, are frost free and Energy Star efficient.
For more information visit http://www.bigchill.com.
###
About Big Chill
Big Chill was founded by Orion Creamer and his uncle Thom Vernon in 2001 and made a splash with its brightly colored, retro-styled fridges with modern amenities. Since then the Boulder, Colorado-based company has expanded its product offering to include refrigerators, fridges, dishwashers, microwaves, stoves, hoods and wall ovens, available in more than 200 colors, as well as custom colors. In addition to retro, mid-century-styled appliances, Big Chill also manufactures contemporary-styled Pro appliances that blend modern design, bold colors and serious performance. Big Chill appliances can be purchased directly online. Visit http://www.bigchill.com to learn more.