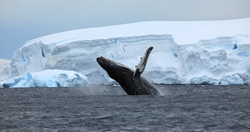 An Antarctica cruise is a staple on many a traveller's bucket list.
Glendale, CA (PRWEB) August 07, 2015
Globetrotters keen to discover Earth's coolest continent will enjoy complimentary charter air and a Buenos Aires Hotel Package if they book by September 30, 2015.
An Antarctica Cruise is a staple on many a traveller's bucket list. Sadly, it often remains there, due to the cost and planning involved. Goway Travel is bringing the dream closer with bonuses on a range of its Antarctica tours, for departures throughout late 2015. Passengers taking advantage of the offer will receive a pre-expedition hotel night with breakfast in Buenos Aires, a return charter flight between Buenos Aires and Ushuaia, and group transfers from and to the airport in both cities.
The offer adds US$800 in value, and is available on a range of Goway Antarctica trips, including the Antarctic Explorer, Falklands, South Georgia and Antarctica, and Crossing the Circle. Each itinerary has been designed by Goway's polar travel experts to take in the region's best wildlife viewing opportunities, with stops at the surrounding islands, exploring their natural and human history.
Passenger booking by September 30 will also receive a special rate on their Antarctica cruise, saving up to US$1500 on premium cabins, or US$1000 on regular cabins, for a total bonus value up to US$2300. Eligible departures start November 7, with the last departing on December 31, 2015.
Since 1970, Goway has been providing unforgettable travel experiences to Africa, Asia, Australia and New Zealand, polar and idyllic island destinations, Europe, and Latin America. Today Goway is recognized as one of North America's leading travel companies for individuals, families and groups to select exotic destinations around the globe. Goway has offices in Los Angeles, Vancouver, Toronto, Manila, and Sydney (Australia).
For reservations and information, visit http://www.goway.com, or call 1-800-387-8850.