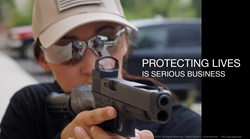 World Champion 3 Gunner, IPSC Champion, State Trooper, "Can I give you a hug? Do you know how many lives your going to save?"
Reno, Nevada (PRWEB) August 06, 2015
Accurate Pistol Systems LLC, a design & manufacturing firm is unveiling its latest product: The 1Shot.
The 1Shot is a dynamic pistol rest that gives a shooter the ability to fire a pistol with increased accuracy, stability, and safety. The original concept designed by Robert Gilmer was initially intended for law enforcement officers. The military became interested after they saw preliminary testing of the device. Due to the increased accuracy and safety of using the 1Shot when firing a handgun both law enforcement and firearms manufacturers encouraged Mr. Gilmer to bring the 1Shot to the public.
The 1Shot is easy to use, weighs 12 ounces and requires no modifications to the firearm.
The patent pending designs of the 1Shot never attach to the handgun. The shooter holds a handgun against the wall of the 1Shot to safely stabilize the firearm before firing. The stability of the handgun dramatically improves when it is held against the wall, allowing the shooter to gain confidence that the round they fire will not miss the target.
Robert Gilmer consulted with law enforcement, the military, and the Department of Justice throughout the development of the 1Shot project. Mr. Gilmer explained "Every law enforcement agency, military unit and professional shooter or hunter who has tested the 1Shot thinks it's the greatest improvement to handgun accuracy they have ever seen and all of the feedback has been positive."
The idea sprang from Gilmer's mind after he was dissatisfied with his pistol's accuracy and troubled by the excessive number of rounds fired in most police shootings. His goal was to improve the accuracy and the safety of pistols on several levels.
Accurate Pistol Systems, LLC makes all of their products in Reno, Nevada. The 1Shot dynamic pistol rest is currently being used by several law enforcement agencies and being evaluated for use with the U.S. Army's Modular Handgun System. Robert Gilmer's designs have been used by JPL/NASA, Department of Defense, Department of Energy, US NAVY, Federal Aviation Administration, and many others.
For more information on the 1Shot see: http://www.usa1shot.com