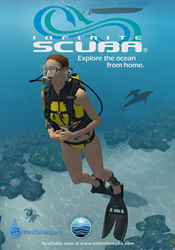 Redmond, WA (PRWEB) August 06, 2015
Cascade Game Foundry (CGF) is excited to be exhibiting their Infinite Scuba simulation game at this premiere computer and video game event in Cologne, Germany August 5-9. The trade fair is open to the public and industry insiders.
Infinite Scuba, a diving game that offers players a unique and relaxing experience of exploring real international dive sites, will be exhibiting with 5 additional game studios including Camouflaj, tinyBuild, Good Mood Creators, PayEveryWare, and Refract as well as the Washington Interactive Network, OneRedmond and the City of Bellevue.
CGF will offer game demonstrations at the Washington Interactive Network booth, B042 in the Entertainment Area Hall 10.1.
"We can't wait to be part of the energy at this year's gamescom," says Kathie Flood, Managing Director and Co-Founder of Cascade Game Foundry. "Visitors will have a chance to explore our dive sites like real divers do and dive as one of our 5 beautiful avatars including that of Dr. Sylvia Earle, renowned diver, oceanographer and conservationist."
To ensure that Infinite Scuba provides an authentic and realistic diving experience, CGF works closely with Dr. Sylvia Earle, National Geographic Explorer-in-Residence and founder of Mission Blue. Mission Blue is a non-profit that creates public awareness about critical ocean issues and inspires support for organizations, projects and scientific expeditions that make a positive difference for the ocean. CGF donates $1.00 to Mission Blue for every game sold. Below are 2 videos of the game:
https://www.youtube.com/watch?v=R11EPXkMtoQ
https://www.youtube.com/watch?v=vazIGupFf_s
CGF also works with the Professional Association of Diving Instructors (PADI®), and over 20 dive equipment manufacturers, such as SCUBAPRO®, Oceanic, and Body Glove to ensure the integrity of Infinite Scuba's diving experience while raising awareness of critical ocean and marine life issues.
Infinite Scuba was a finalist in Game Connection America's Selected Projects 2014 competition, a finalist in the 2013 Seattle Independent Game Competition, and the winner of the Best in DEMA Show 2012 award. Cascade Game Foundry is a 2013 Graduate of the Washington Interactive Network's REACTOR Accelerator.
For more information about Infinite Scuba please visit https://www.infinitescuba.com.
CGF will be part of the Washington Interactive Network's special reception in their booth on August 5th, the Trade Visitor and Media Day of the show, from 5pm to 7pm, located at B-042 in Hall 10.1 (the public entertainment area).
About Cascade Game Foundry
Cascade Game Foundry, Corp. (CGF) is an independent Seattle-based development studio composed of simulation experts with a passion for helping people learn about and explore the world from home. Their first independent release is the award-winning Infinite Scuba. Partners include Dr. Sylvia Earle, PADI, DEMA, and 20+ dive equipment manufacturers.
For more information about Cascade Game Foundry, please visit http://www.cascadegamefoundry.com.
Infinite Scuba® is a registered trademark or service mark of Cascade Game Foundry, Corp. All Rights Reserved.