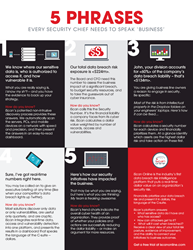 CISOs can confidently meet the demands for oversight by their Boards with a single solution
Plano, TX (PRWEB) August 05, 2015
iScan Online announces the iScan Data Breach Risk Intelligence platform to help chief information security officers (CISOs) prevent data breaches and educate their Boards. The platform includes the company's new triple-threat detection and a Board-ready dashboard that prioritizes risk based on financial liability. Now a CISO can easily present the organization's risk posture to the Board in their language – dollars.
Current tools are not designed for CISOs that are invited into the Board Room
Under threat of lawsuits, Boards are turning to CISOs to provide education and evidence of "proactive measures" to reduce data breach risk. But existing technologies are built for yesterday's IT needs. Separate tools are required for data and vulnerability detection, the sluggish detection process impedes employee productivity, and IT analysts must painstakingly interpret results.
iScan Online's patented discovery process detects unprotected data, access permissions and vulnerabilities
iScan Online's patented detection technology is the first on the market to provide triple-threat detection, uncovering unprotected data, access permissions and vulnerabilities. It provides rapid and accurate discovery without slowing employee performance.
CISOs get answers to key questions in real-time:
1. What data is unprotected?
2. Who has access to it?
3. How can it be compromised?
The iScan Security Number answers, "What will a breach cost me?"
iScan Online uses triple-threat detection results to calculate the financial liability of data breach risk. Each server, PC and mobile device within an organization receives its own real-time security number. Data breach risk is then financially prioritized automatically in the intelligence dashboard to focus security teams on assets with the greatest liability.
CISOs can provide evidence of progress to Boards
The cloud-based service is rapidly deployed, so CISOs can start getting answers the same day. The dashboard presents real-time risk intelligence as well as changes over time.
With iScan Data Breach Risk Intelligence, CISOs can:

Take proactive measures to prevent a data breach
Provide evidence of the effectiveness of measures taken
Connect security measures to business outcomes
Quantify risk to inform cyber insurance premiums
"Today technical skills are 'table stakes', so successful security leaders need to speak the language of business," explains Carl Banzhof, CEO of iScan Online. "iScan Online's Data Breach Risk Intelligence arms CISOs with real-time knowledge to prevent data breaches, but also with a dashboard that presents risk exposure in dollars. CISOs can confidently meet the demands for oversight by their Boards with a single solution."
Over 700,000 scans of PCs, servers and mobile devices have been performed by organizations using iScan Online detection technology, including universities, retailers, banks, and risk management companies. The company has received an SC Magazine Innovator award and was named a Top 20 Most Promising Security Company by CIO Review.
iScan Online's Data Breach Risk Intelligence will be unveiled at the Black Hat Conference in Las Vegas on August 5-6, 2015.
For an immediate free trial, visit iscanonline.com.
Click here to view the 5 Phrases Every Security Chief Needs to Speak Business.
About iScan Online
Do you know your Security Number? iScan Online is the industry's first data breach risk intelligence platform that puts a real-time dollar number on an organization's security risk. iScan's patented triple-threat detection process uncovers sensitive data, vulnerabilities, and access permissions, and then prioritizes the results in reports that speak the language of the Board - dollars. Now CISOs can focus resources where they will have the greatest impact and provide evidence of reduced financial liability to the Board. iScan Online is the winner of an SC Magazine Innovator award and was named a Top 20 Most Promising Security Company by CIO Review. Visit iscanonline.com to learn more and take a free trial.