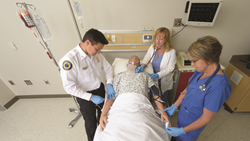 The iStan patient simulator enables our Florida Hospital Carrollwood medical teams to expand their knowledge, competency and critical thinking skills in a less stressful setting.
Tampa, FL (PRWEB) August 05, 2015
Florida Hospital Carrollwood is partnering with CAE Healthcare to help save lives with a simulation lab for medical and emergency response training. The high-tech human patient simulators provide risk-free training and reduce the potential for human error. The human patient simulator can blink, bleed, cry, suffer a heart attack or show signs of a drug overdose or severe allergic reaction. The mathematically engineered robot represents the future of healthcare training and patient safety. Florida Hospital Carrollwood will be launching the new program this week.
"The iStan patient simulator enables our Florida Hospital Carrollwood medical teams to expand their knowledge, competency and critical thinking skills in a less stressful setting," said Joe Johnson, Florida Hospital Carrollwood President and CEO. "We are proud to offer such state-of-the-art technology to educate our current nursing staff and those who will be joining our nursing residency program."
The iStan patient simulator is far more advanced than the resuscitation mannequins on which many learned CPR; the iStan patient simulator has reactive eyes, audible breath and heart sounds, realistic skin and airway and internal robotics that respond automatically to medications and treatments. The human patient simulator can produce responsive vital signs, while an instructor can make it "speak" via a remote microphone. CAE Healthcare patient simulators meld pioneering human physiological modeling with hands-on, clinical training for physicians, nurses, emergency responders, healthcare students and military medics.
It allows everyone to practice skills such as catheterization, intubation and ventilation in addition to the non-technical skills such as communication. Medical professionals can create emergency team training scenarios where everything is real except the patient.
"Providing our nursing residents with the best training available to begin their nursing careers will benefit our organization and the patients we serve," said Robin McGuinness, DNP, MSN, RN, NE-BC, Florida Hospital Carrollwood Chief Nursing Officer and Vice President of Patient Care Services. "Our current nursing staff will also have the amazing opportunity to practice their current skills and improve upon the already stellar care that they provide to our patients and their loved ones."
Simulation training is expanding worldwide as greater numbers of students and clinicians practice treating acutely ill or severely injured simulators without risk of harm to real patients. Studies have found that simulation training accelerates learning, reduces anxiety while building confidence in newly graduated nurses and saves lives.
About Florida Hospital Carrollwood
Florida Hospital Carrollwood is a 120-bed facility that specializes in providing comprehensive medical services to community residents in the northern Tampa Bay region. A member of the West Florida Region of Florida Hospital and Adventist Health System, the hospital offers exceptional surgical, ER and Wound Healing services in an environment focused on Christian compassion and whole-person health and healing. The hospital has also achieved several firsts in the region, including the development of a state-of-the-art Spine Center of Excellence, utilizing the Mazor Renaissance™ Spine Robot, as well as achieving the notable HIMSS Level 7 designation for the facility's dedication to electronic systems and patient safety. For more information, please visit FHcarrollwood.org.
About CAE Healthcare
CAE Healthcare offers cutting-edge learning tools to healthcare students and professionals, allowing them to develop practical experience through risk-free simulation training before treating real patients. CAE Healthcare's full spectrum of simulation solutions includes surgical and imaging simulation, curriculum, the LearningSpace audiovisual and center management platform and highly realistic adult, pediatric and baby patient simulators. Today, approximately 9,000 CAE Healthcare simulators and audiovisual solutions are in use worldwide by medical schools, nursing schools, hospitals, defense forces and other entities. CAE Healthcare is a division of CAE (NYSE: CAE; TSX: CAE), a global leader in providing comprehensive training solutions based on world-leading simulation technology and integrated training services http://www.caehealthcare.com
For more information about iStan, visit the iStan product page.