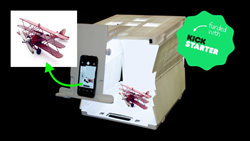 An invaluable resource for every home, apartment and business.
Salt Lake City, UT (PRWEB) August 06, 2015
Salt Lake City – SHOTBOX has raised over $50,000 on Kickstarter and has fully hit its funding goal with three weeks remaining. Now that funding has been achieved, SHOTBOX will move forward with plans for production and the tooling for nine molds required to create the SHOTBOX product. SHOTBOX is a portable, pop-up photo light studio that enables end users to create a perfectly lit environment for taking photographs with the smart phone they most likely already own. SHOTBOX also accommodates DSLR and "point and click" cameras by use of a camera mount to securely take perfect pictures.
In response to the successful funding campaign on Kickstarter, Founder and President Aaron Johnson said "I couldn't be happier with the amount of support we have seen for SHOTBOX. It is clearly a product that will fill a need for people who would like to preserve memories by taking pictures of precious family documents and photos. It also will empower sellers on eBay, Etsy and other sites to take professional level pictures of items they are selling in an easy and convenient way."
SHOTBOX comes with the latest in LED lighting technology with dimming capabilities to set the environment to the end users requirements. Additionally, the SideShot accessory allows photographers to take pictures of 3-D objects by attaching to the front of the SHOTBOX. Shipping is scheduled mid to late fall of 2015.
About SHOTBOX
SHOTBOX is a fully contained, tabletop, collapsible, portable, lightweight photo light studio. It is perfect for objects, photos and documents.
Founder Aaron Johnson, who was co-inventor of the Cricut Electronic Cutting Machine, started dreaming of the SHOTBOX concept 12 years ago while using a scanner to digitize family journals and photos and knew there had to be a faster, better way. In early 2014 he started earnest development, prototyping over 20 different adaptations and is now ready to start manufacturing the product.