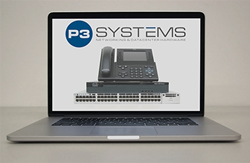 Rochester, NY (PRWEB) August 10, 2015
Maintaining and operating a datacenter is an expensive and complex endeavor. While migrating from a traditional datacenter to a cloud based environment results in considerable savings in the long run, the initial costs can be a difficult obstacle to overcome. P3 Systems, a wholesale network hardware provider, aims to reduce these costs by offering their Asset Recovery Program to companies beginning this transition. Businesses migrating data and applications to cloud providers like Amazon Web Services now have an efficient way to offset upgrade costs and liquidate unused network hardware through P3's Buy-Back Program.
With many companies paying to have their unwanted network and data center hardware scrapped, P3 Systems offers a more cost-effective alternative for decommissioning unused infrastructure, allowing businesses to receive a larger and faster return on existing equipment. In many instances, the initial cloud transition can become a source of profit, rather than an initial cost, effectively reducing the payback period of many cloud migrations down to almost zero.
By contacting the Purchasing Department via p3online.com, customers can submit their list of equipment, and receive a value assessment within 24 hours. The team at P3 handles all steps of the process from creating a purchase order and scheduling a pickup, to supplying labels and packing materials. P3 Systems President and CEO Frank Pecora, along with the rest of the P3 Team, work towards having their Asset Recovery Program become another creative solution on their road to better serving their customers.
About P3 Systems
P3 Systems was founded in 2007 by CEO Frank Pecora, and is privately held. P3 Systems has been recognized by the Rochester Business Alliance as one of the "Rochester Top 100" fastest growing companies in the region for the past three years in a row. For a full list of products and services offered, visit P3 Systems online at http://www.p3online.com