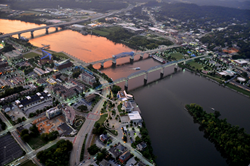 "While this new report is just a snapshot of one year, it clearly shows a return of approximately $2 Billion over time." - Charlie Arant, TN Aquarium president and CEO
Chattanooga, Tennessee (PRWEB) August 09, 2015
The Tennessee Aquarium began as a community-driven effort to revitalize downtown Chattanooga. The amazing results generated by this non-profit institution have been well-documented and have even been used as a roadmap for other communities seeking to spark a similar renaissance.
The Aquarium continues to grow and offer a fun and educational experience, yet many people may not realize how their trip to the Scenic-City ripples throughout the region in a number of measureable ways.
The University of Tennessee Center for Sustainable Business and Development was recently commissioned to conduct a thorough analysis of the Aquarium's annual economic impact to Hamilton County. The researchers evaluated all aspects of the Aquarium's economic metrics using data collected from Aquarium guests during 2014. They carefully analyzed this information over several months.
The findings show that the Aquarium and its out of town guests continue to be a major driver for Chattanooga's growth, contributing annually $101.3 million in economic impact. "That's a remarkable figure on it's own, but when the annual return is compared to the initial $75 million investment to construct both Aquarium buildings, the number is even more impressive," said Charlie Arant, the Aquarium's president and CEO.
The Aquarium attracts more than 700,000 visitors to downtown Chattanooga, many of whom bring to the city out-of-town dollars that local businesses may not otherwise earn. These dollars contribute $6.3 million in taxes to help sustain essential services in the community, like funding for roads and schools. And, according to this new report, the multiplier effect of the Aquarium's operations supports 1,086 jobs across our community.
"There were important questions asked about the Aquarium's potential impact prior to opening in 1992," said Arant. "While this new report is just a snapshot of one year, it clearly shows a return of approximately $2 billion over time."
The report also defines how the Aquarium's positive impact flows through the region in other ways.
The broader educational benefits trickle into schools and community organizations who utilize the expertise of the nation's only aquarium-based accredited Special Purpose School. Access programs provide free field trips, bus transportation and classroom programs equaling more than $2.2 million contributed to the local community.
The Aquarium also uses contributes to the environmental well-being of our region through the Tennessee Aquarium Conservation Institute. Through the multiplier effect of collaborative work with state and federal agencies, conservation organizations and universities, grants and contributions are magnified and used to restore native aquatic animals, educate rising students and bring other scientists together in Chattanooga to examine our region's conservation needs.
"This report affirms our strengths as an organization and how we're helping the Chattanooga area," said Arant. "We continue planning for the future knowing that there's much more that can be accomplished with continued community support."
The Aquarium's Community Impact Report can be found online.
Annual Economic Impact at a Glance:

$101.3 million: annual economic impact of the Tennessee Aquarium on Chattanooga and Hamilton County
1,086 jobs are supported by the Aquarium's operating and capital expenditures, along with the spending of out-of-town visitors
$67.7 million: revenue realized by area businesses as a result of goods and services purchased by Aquarium guests
$6.3 million: tax revenue generated for the City of Chattanooga and Hamilton County to support essential services
$2.2 million: contributions the Aquarium made directly to our community through free student admissions and program support for education programs and other area nonprofits.
30,000+ underserved students admitted free of charge each year