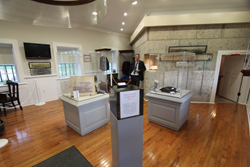 While Fort Adams is a fantastic family experience rich with history, lifestyle and spectacular views; the new museum and archives thoroughly enhances a fort visit with greater details on fort activity
Newport, RI (PRWEB) August 05, 2015
The Fort Adams Trust located at 90 Fort Adams Drive Newport, RI announces the opening of the Fort Adams Museum and Archives. The museum is housed in the former redoubt jailhouse and has displays of historic photographs of life and activities at the fort dating back 100s of years. Accompanying the photographs are old uniforms, period antiques, archives from the fort, and artifacts uncovered during a "dig" by the National Geographic's Diggers show in 2012. The displays are in rolling cases with contents rotated every 90 – 120 days to ensure a fresh visitor experience. The cases can be moved within the museum to create space to accommodate small parties and meetings within a unique environment.
"While Fort Adams is a fantastic family experience rich with history, lifestyle and spectacular views; the new museum and archives thoroughly enhances a fort visit with greater details on fort activity," stated board president, Greg Hall. "Since it was the former jailhouse, it takes advantage of an interesting space that was previously underutilized. Best of all one can visit it for free." Hall Added.
The museum is open year round free of charge Monday, Wednesday, Friday, Saturday and Sunday from 11:00 A.M. to 5:00 P.M.
About the Fort Adams Trust:
The Fort Adams Trust is a 501 (c)(3) non-profit responsible for preservation, programming, and promoting the National Historic Landmarks in Fort Adams State Park in Newport, Rhode Island. Over 100,000 people tour the Fort and attend events in the Park annually. The Trust accepts donations to support its preservation and programming missions. http://www.FortAdams.org