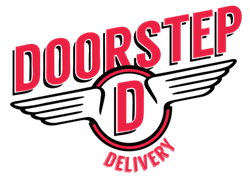 Orlando, FL (PRWEB) August 05, 2015
The largest restaurant delivery service in the Southeast and the largest multi-city independently owned restaurant delivery service in the county "Doorstep Delivery" is set to serve even more customers and restaurants with the expansion into the Palm Beach region of Florida this month, Doorstep Delivery is excited to announce. Palm Beach, Jupiter, Palm Beach Gardens, Riviera Beach and North Palm Beach will join the other locations the multi-million dollar company currently serves bringing the total number to over 150 cities served and growing.
Originally founded in 1999 out of Gainesville (FL) as GatorFood.com, the company first served Florida cities Gainesville, Tallahassee, Tampa and Orlando. Co-Founders William Moore, Andrew Brown, Tom Colangelo and Daniel Sinor combined their over 40 years of experience in the restaurant delivery service industry to join forces in 2008 and expand the now called Doorstep Delivery into additional markets in the Sunshine State like Jacksonville and Ft. Lauderdale and then eventually throughout the Southeast, plus Denver and Dallas. Last month, each branch of Doorstep broke personal records while Doorstep's corporate headquarters and flagship location Orlando topped the list by breaking company-wide records in food sales.
Doorstep Delivery not only facilitates deliveries from more than 1200 restaurants in total, but the company also prides itself in providing an exceptional marketing service for all its restaurant clients and being on the cutting edge of technology. Doorstep acts as master internet and guerilla marketers creating a platform online for dine-in coupons, an area for restaurants to display awards and "toot their own horn" and the production of numerous promotional pieces highlighting each restaurant they serve. Developing their own advanced software, Doorstep also offers web and mobile app ordering giving customers the option to pick up their food and a mapping feature to help them locate their favorite eatery and venture out and experience the food they love delivered in the restaurant itself.
"We designed Doorstep Delivery to benefit consumers and to benefit restaurants," says Co-Founder Andrew Brown. "For consumers, we offer the service of convenience and are used as a dining guide providing a 'one stop shop' for all dining needs from delivery and pick-up to dining coupons and directions. For the restaurants, we are a huge marketing company who drives incremental sales without adding more overhead, which is extremely profitable for the restaurant."
In 2014 alone, Doorstep saw a nearly 50% increase in restaurant sales company wide, which is a strong indicator that Doorstep Delivery will soon be a household name in virtually every major city in the U.S. For more news and information on Doorstep Delivery and individual locations, visit http://www.DoorstepDelivery.com.
###
MEDIA CONTACT: Ilene Lieber, 321-277-7812, ilene(at)passionprconsulting.com