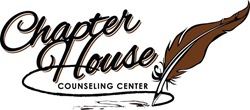 Dallas, Texas (PRWEB) August 10, 2015
Chapter House Counseling Center received their license from the Texas Department of State and Health Services as an outpatient substance abuse treatment center on March 3rd and have been growing ever since. Since then they have outgrown their initial office space and moved into a 2,500 square foot building that offers more group rooms, a psychiatric office, a full kitchen, an outside deck, and an amazing view of a tranquil creek and blooming trees out of the back windows. With their new office home, Chapter House is now able to expand their counseling services to include experiential therapy, both outdoors and indoors. In addition, they are pleased to have Elise Luce Leibold join the team as a counselor intern. Elise is also a certified ropes and experiential instructor.
The Chapter House Intensive Outpatient Program (IOP) is currently offered Mondays, Wednesdays and Fridays from 9:15am-12:15pm. The IOP is a gender specific men's group, but hopes to expand to offer a co-ed group and a gender specific women's group, as well as additional group times in the coming months. Furthermore, Chapter House Counseling Center is currently serving residents from various local sober living homes as well as individuals from the general public in addition to the residents of Chapter House Sober Living.
Chapter House Counseling Center using early intervention with their clinical services is essential for the transition into lasting sobriety. Even after the intensity of residential treatment, individuals need space to continue to explore core issues that impact their relationships, recovery, and ability to move into adulthood. Chapter House Counseling Center has designed its program specifically for individuals that have been through treatment, had sobriety in the past, or have had exposure to the 12-steps. These individuals need time and opportunities to build on the experiences they've had and information they have already been taught. All clinical services are integrated with 12-step principles and an understanding of the importance of applying the steps into every area of their emotional life, spiritual life, professional life, and family life.
Treatment at Chapter House Counseling Center includes 9 hours of group therapy each week, 1 hour of individual counseling, and regular family therapy. The cost of most clinical services are covered by insurance.
Finally, the medical director and psychiatrist, Dr. Rachel Leidner, provides psychiatric services and oversight to each client. An initial psychiatric evaluation will be completed on each client by Dr. Leidner upon admission. When necessary Dr. Leidner continue to work with an individual on a weekly, biweekly or monthly basis.
For more information on outpatient treatment in the Dallas area please feel free to contact Chapter House Counseling at 866-500-6363 or go to their website http://www.chapterhousecounseling.com/ for more information.