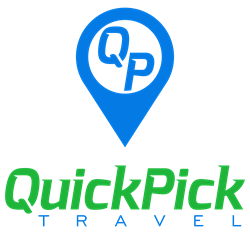 People deserve to have the best vacation possible...and the best prices available.
Lambertville, MI (PRWEB) August 06, 2015
In a recent news story that aired July 24, 2015 on CBS This Morning, Co-Host Anthony Mason reveals that hotels and major airlines are withholding room inventory and flight information from popular online travel booking sites.
CBS News Travel Editor Peter Greenberg explains that initially, when airlines were in trouble financially, they were happy to work with third party providers, allowing them to sell unsold inventory on behalf of the airline. Now that the industry is thriving, they no longer need, or want, the online travel agency partnership.
He goes on to say that hotels are following suit. They want to bring their sales back in house and avoid the discount site bookings.
So, what does this mean for travel consumers?
TC Clements, Owner and President of QuickPick Travel, an online travel site where users interact with qualified travel professionals, believes this is good news for travelers.
"For years, consumers have mistakenly believed that online travel booking sites offer complete access to all available hotel rooms and best deals on flights, where actually only 52% of inventory was ever accessible. Now, with this latest industry shift, consumers will be steered toward using humans, rather than search engines, to book their trips – and that's an incredibly good thing for everyone!"
According to Clements, travel specialists have the insider knowledge to access properties and amenities a consumer might not know about, and that the online travel sites won't have. They are also able to monitor for best pricing and make adjustments to travel itineraries as the trip gets closer.
"On top of getting complete access," TC goes on to say, "people working with a travel specialist have the advantage of a vacation planned around their budget, personality, adventure level, and special needs, that online travel sites just can't provide."
Peter Greenberg advises people to pick up the phone and talk to people. Clements couldn't agree more. "People deserve to have the best vacation possible, with the best amenities, excursions, and entertainment, and the best prices available. That's what you get when you avoid the search engines and plan your trip with someone in the know."
For those who still want the comfort of booking online, Clements urges people to visit the QuickPick Travel website at http://www.quickpicktravel.com where you'll get full access to all airline and hotel options.