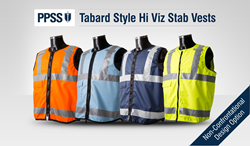 Following several discussions with Heads of Health and Safety as well as Security and Operations Manager, we learned to understand the effect the right or wrong perception of the general public can have on officers wearing body armour
Knaresborough, United Kingdom (PRWEB UK) 6 August 2015
UK headquartered PPSS Group have now launched newly designed 'Tabard Style' Stab Resistant Vests, aiming to improve the appearance of those wearing them.
Professionals wearing body armour can certainly sometimes be perceived as aggressive, confrontational or authoritative looking.
This doesn't make the general public feel any better when approached by such an officer, even when certain one has done no wrong.
Robert Kaiser, CEO of PPSS Group, says: "Professionals working within facility management, public transport and other public facing sectors, have the objective to make their frontline staff appear more approachable, helpful and general safety conscious."
"In this context, high visibility clothing has become a part of today's society. Vehicle recovery men, the man on the nearby building site and the guy collecting trolleys at the local supermarket all wear hi viz vests without looking confrontational."
"Over the past few months, several Heads of Health and Safety as well as Security and Operations Manager, have explained in great depth the right or wrong perception of the general public can have on officers wearing body armour."
PPSS 'Tabard Style' Hi Viz Stab Vests comply with latest high visibility standards, are ultra-light, extremely thin and have been designed with all of the above in mind.
They offer exceptional and UK Home Office certified protection from all types of edged weapons, hypodermic needles and more importantly they offer truly unmatched protection from what is statistically the most likely type of injuries one may suffer in the UK: Blunt Force Trauma.
Blunt force trauma refers to physical trauma to a body part by a physical attack, usually following a kick, punch or blow by a blunt object.
Please contact PPSS Group directly on +44 (0) 845 5193 95 email info(at)ppss-group(dot)com or visit http://www.ppss-group.com
---
About Us:
UK based PPSS Group is specialised in the development of high performance bullet resistant vests, stab resistant vests and cut/slash resistant clothing, aiming to protect police, military, emergency services, prisons and private security professionals all over the world.
Their CEO Robert Kaiser is frequently invited to speak in front of large audiences about the latest body armour developments within homeland security and domestic frontline services. He is acting as body armour consultant for a number of organisations, associations and international government agencies. His genuine passion for personal safety and personal protection is globally respected.
---
Media Contact:
Rebecca Foster
PPSS Group
T: +44 (0) 845 5193 953
F: +44 (0) 845 5193 955
E: info(at)ppss-group(dot)com