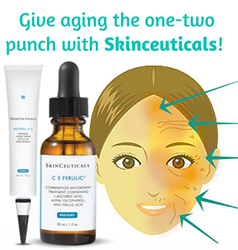 Washington, DC (PRWEB) August 06, 2015
BeautyMojo has once again opened its doors to a premium skincare brand with proven results. SkinCeuticals is a line formulated to correct signs of aging, protect healthy skin, and prevent future damage. Created from decades of skin cancer research that led to pivotal breakthroughs in antioxidants, their high potency formulas are concentrated in pure actives and proven to penetrate optimally into skin. From face to feet, SkinCeuticals has a vast array of products to suit anti-aging needs for every skin type and condition.
No matter your skin type, two important products BeautyMojo recommends everyone use in their daily skincare regimen are a retinol and an anti-oxidant. SkinCeuticals offers two retinol strengths, 0.5 and 1.0, that help reverse sun damage, diminish lines and wrinkles, improve your complexion and skin texture and build collagen. For your anti-oxidant, BeautyMojo recommends SkinCeuticals CE Ferulic,which is an antioxidant serum that delivers advanced environmental protection, while diminishing the appearance of fine lines and wrinkles during the daytime. It delivers advanced environmental protection against photoaging by neutralizing free radicals that can accelerate the appearance of aging.
BeautyMojo wholeheartedly supports SkinCeuticals products, and for a limited time has chosen to offer it to the public at a discount of 20% along with free shipping. This amazing discount is available for the month of August 2015. To receive the discount, simply enter the "SC20" coupon code during checkout on http://www.ShopBeautyMojo.com.