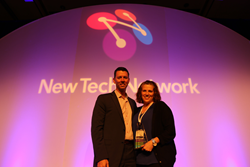 "We really wanted to engage our students with a project that would challenge all levels of learning," said Rachel Trowbridge, Katherine Smith Elementary second grade teacher.
Napa, CA (PRWEB) August 06, 2015
New Tech Network (NTN) announced at the New Tech Network Annual Conference (NTAC) in Chicago, Illinois, that teachers from Katherine Smith Elementary School in the Evergreen School District in San Jose, CA, were awarded the "Best In Network" award for outstanding original curriculum in their project-based learning (PBL) class. This was the first time elementary school teachers have received the "Best In Network" award.
The award was presented at the NTN Conference, held July 20-24, 2015. More than 1800 educators were present for the conference which addressed the question: Are They Ready -- Preparing All Students for College, Career and Civic Life.
New Tech Network annually gives the "Best in Network" award to a teacher who exemplifies the goal of a seamless blending of active exploration, application, and authenticity with academic rigor that is thoughtful both in learning and assessment practices. A project worthy of this award creates an exemplary learning opportunity as chosen by a committee of peers.
Abby Schorr and Rachel Trowbridge were awarded "Best in Network" for an elementary project based on dinosaurs: Digging for Dinos. After digging up dinosaur fossils in Katherine Smith Elementary School's garden, students were immediately asked, "What happened to all of the dinosaurs?"
"We really wanted to engage our students with a project that would challenge all levels of learning," said Rachel Trowbridge, Katherine Smith Elementary second grade teacher. "Digging for Dinosaurs helped bring history to life for many of them," said Trowbridge.
Students launched into a world of inquiry while immersed in literacy and math significant content. After creating a digital story about their most fascinating dinosaur, students became curious about what happened to the dinosaurs. Through class investigations, the teachers introduced four different theories of dinosaur extinction.
"Students really enjoyed this project and learned a lot even when they thought they were just having fun. This project is a great example of integrating content within PBL," said fellow teacher Abby Schorr.
The project culminated with a digging for dinosaurs project exhibition night and a Dino Stomp performed for parents and community members.
"The parents and community are part of everything we do, and we work to ensure they are just as engaged in our school as the students are," said San Jose Silicon Valley Chamber of Commerce Principal of the year for San Jose, Aaron Brengard.
New Tech schools are grounded in three key design principles: teaching that engages (centered on project-based learning), a culture that empowers students and adults, and the pervasive use of technology to enable learning. Supporting the existing school district principals and teachers, NTN collaborates on school design, and provides the training, coaching and professional development to implement the new school designs.
"We often focus our college and career ready efforts at the high school level; however, research supports the importance of exposing younger students to authentic inquiry-based learning. We are thrilled that teachers like Ms.Trowbridge and Ms. Schorr exemplify how this emphasis on "early readiness" is taking place in New Tech elementary schools. As a country, we dwell on the 'going-to-college' problem, yet the even bigger crisis is that in the U.S we graduate far too many students who are not 'ready-for-college'," said Lydia Dobyns, President and CEO of New Tech Network.
New Tech Network (NTN), recently released its 2015 Data Report showing a higher than national average rate of high school graduation and college enrollment from NTN schools located in diverse communities across the country. New Tech Network's strong student performance continues from previous years' outcomes and is noteworthy as the number of schools has expanded to more than 175 public K-12 schools in 28 states and Australia and China.
###
New Tech Network (NTN) works with public district and charter schools to ensure that all students have the skills, knowledge and attributes they need to thrive in college, career and civic life. We are an independent non-profit school development organization that partners with districts to create vibrant schools and engage a national network of educators in continuous improvement. We provide professional development, coaching, access to Echo, our learning management system, and ongoing participation in improvement initiatives so that all systems to support learning are focused on college and career readiness.