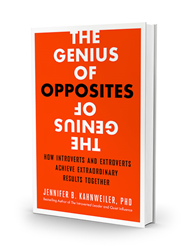 When introverts and extroverts understand how to work together, the results aren't just additive. They're exponential.
Atlanta, GA (PRWEB) August 17, 2015
John Lennon and Paul McCartney. Sheryl Sandberg and Mark Zuckerberg. Steve Jobs and Steve Wozniak. Introvert and extrovert pairs have long worked together to achieve great things. But while their partnerships may seem effortless, the truth is the relationships of these high-performing opposite duos require lots of work.
A new book by best-selling author and "champion for introverts" Jennifer Kahnweiler breaks new ground in unlocking how these two personalities can achieve extraordinary results.
Available now at Amazon.com, Barnes & Noble and other retailers, "The Genius of Opposites" provides a practical, five-step process that helps introverts and extroverts understand and appreciate each other's wiring, use conflicts to spur creativity, enrich their own skills by learning from the other, and create results they never could have created acting alone. The Genius of Opposites is the first of its kind. Until now, there has not been a process to blend the complementary talents of introverts and extroverts.
Given that nearly half of the people in the world fall on either the introvert or extrovert side of the spectrum, chances are that most people have interacted with or will interact with their opposites in the workplace or at home. Introverts get frustrated with extroverts' habit of thinking out loud. Extroverts get irritated with introverts' measured tones. This book provides the tools to reconcile differences and realize these relationships' full potential.
"When introverts and extroverts understand how to work together, the results aren't just additive. They're exponential. You see and create outcomes that neither of you could have created separately. You can pull out the best thinking from each other, like blending two brains into one," said Kahnweiler, author of two best-selling books, "The Introverted Leader: Building on Your Quiet Strength" and "Quiet Influence: The Introvert's Guide to Making a Difference." "If you struggle with a boss or coworker who just doesn't 'get' you, this book will be a godsend. It will help you reduce frustration, minimize misunderstanding and deliver great work."
Kahnweiler has combined more than thirty years of experience consulting and coaching opposite teams with research of forty introvert/extrovert pairs to develop an easy-to-remember five-step ABCDE process that unlocks the genius of opposites.
The book also includes a quiz to assess one's partnership and begin to move toward a higher level of performance. The quiz can be accessed online at http://www.jenniferkahnweiler.com/genius-of-opposites-quiz.
Advance praise for "The Genius of Opposites":
· Daniel H. Pink, author of To Sell is Human and Drive, remarked, "Jennifer Kahnweiler is here to teach introverts and extroverts how to collaborate productively and happily."
· Suzanne Richards, vice president of Diversity and Inclusion at Freddie Mac, stated, "This groundbreaking book will help organizations understand and leverage the power of difference."
· Adam Grant, Wharton professor and New York Times best-selling author of Give and Take said, "This book captures how introverts and extroverts can leverage their differences to achieve great results together."
The book, published by Berrett-Koehler, is available at Amazon and Barnes & Noble. For more information, including a sample chapter, details on Kahnweiler, a keynote video, book praise, press coverage, and purchasing information, visit http://www.jenniferkahnweiler.com/books/the-genius-of-opposites.
About the Author
Jennifer B. Kahnweiler, Ph.D., Certified Speaking Professional, is a best-selling author and global keynote speaker who is known as the "Champion of Introverts." In addition to her latest book, "The Genius of Opposites," she has written two best-selling books about introverts ("Quiet Influence" and "The Introverted Leader"), which have been translated into 14 languages. Jennifer has worked with hundreds of organizations including GE, CNN, NASA and the CDC. She is a highly regarded faculty member of the American Management Association and has been featured in Forbes, Time Magazine, Fortune and The Wall Street Journal. Jennifer's commitment to introverts started the day she married one. Since then, she's helped organizations value the introverts on their teams and coached introverted individuals to step confidently into leadership positions.
The Genius of Opposites
By Jennifer Kahnweiler
August 2015
Paperback, $17.95; 167 pages