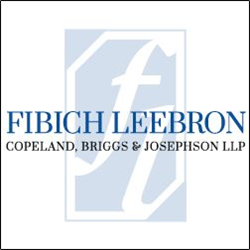 (PRWEB) August 05, 2015
The team at Fibich, Leebron, Copeland, Briggs & Josephson is proud to announce that Attorney Becky Shapiro has become the newest member of our firm.
A Texas native raised in Dallas, Becky earned her Bachelor of Science degree from Indiana University. She later returned to Texas to earn her Master of Science degree in Social Work. After working an internship at Family Court Services in Dallas, Becky realized her desire to become an attorney, which she felt would best allow her to help others. She moved to Houston and attended South Texas College of Law, where she earned her Juris Doctorate. While working at an employment law firm as a clerk during school, Becky made it her goal to help hard-working employees understand their legal rights and to ensure that they receive the proper compensation they are entitled to under the law. Becky is now a member of the State Bar of Texas and puts her knowledge to work for her clients every day at our firm.
Since joining the team at Fibich, Leebron, Copeland, Briggs & Josephson, Becky has worked tirelessly on behalf of many of our firm's newest clients to make sure they receive the highest level of service. Her goal is to provide her clients with a strong voice in the legal system and to bring them the best results possible. Her passion for advocating for the rights of others is clear in everything she does. As a nationally recognized, results-oriented firm with a track record of success, we are pleased to have such a driven, hard-working, and compassionate lawyer as a new member of our team.
Fibich, Leebron, Copeland, Briggs & Josephson is a Houston-based law firm serving clients throughout Texas. Our practice includes personal injury, product liability, business disputes, eminent domain, consumer class action lawsuits, wage and hour claims, and more. For more information about our firm and how we may be able to assist with your legal needs, please visit our website at http://www.fibichlaw.com.