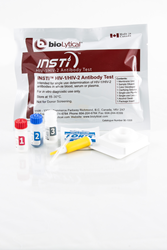 bioLytical's INSTI HIV-1/HIV-2 Antibody Test is perfect in the pharmacy setting as it is the only test on the market that offers results in as little as 60 seconds
Richmond, B.C. (PRWEB) August 06, 2015
bioLytical Laboratories, exclusive manufacturer of the 60 second INSTI HIV-1/HIV-2 Antibody Test, applauded Virginia Department of Health (VDH) and Walgreens on increasing access to no-cost, one-minute HIV testing across the State of Virginia. In June of last year, the Virginia Department of Health and drug-store giant Walgreens launched a pharmacist-lead HIV testing pilot at 13 Walgreens pharmacies across the state of Virginia. The test selected was BioLytical Laboratories' INSTI HIV-1/HIV-2 Rapid Antibody Test which produces results in as little as 60 seconds. Heather Bronson from the Virginia Department of Health stated that having a test that can provide results in one minute is a key factor in getting pharmacies involved(1). Since establishing those sites, specially trained Walgreens pharmacists have performed more than 1,200 tests throughout the state. HIV tests are administered in private consultation rooms at no charge to the patient.
To broaden access to HIV testing, the initiative was expanded to 19 additional Walgreens locations across the state, bringing the total to 32 participating locations as of June 2015. Specially trained pharmacists provide counseling and support services to patients and can connect individuals to local resources for confirmatory results and subsequent care.
Because of this public-private collaboration, the tests are available daily with no appointment necessary, at no charge to the patient, and test results can be provided within minutes. "bioLytical's INSTI HIV-1/HIV-2 Antibody Test is perfect in the pharmacy setting as it is the only test on the market that offers results in as little as 60 seconds," said Rick Galli, Chief Technical Officer of bioLytical Laboratories. "We are pleased to see VDH is doing their part in increasing access to HIV testing with this innovative initiative and paving the way for other states to follow."
Updated World Health Organization guidelines urge more HIV testing by non-medical staff, outside of clinical settings. Community-based settings can access more individuals through new interactions with individuals that would otherwise be unreached.
(1) Virginia Dept. of Health, Walgreens, partner to offer free, rapid HIV testing, Richmond Times-Dispatch (June 24, 2015)
http://www.richmond.com/life/health/article_57f5aa30-1ba4-5e84-845f-4cd5d62c28c5.html
About bioLytical Laboratories
bioLytical Laboratories is a privately owned Canadian company engaged in the research, development and commercialization of rapid, point-of-care in vitro medical diagnostics using its proprietary INSTI™ technology platform. Today, the company markets and sells its signature INSTI™ HIV test and has a world-wide footprint of regulatory approvals including U.S. FDA approval, Health Canada approval and CE mark from European regulators. Their product provides a highly accurate HIV test result in as little as 60 seconds translating into a compelling value proposition for patients, healthcare professionals and public health organizations. For more information on bioLytical Laboratories, please visit http://www.biolytical.com.