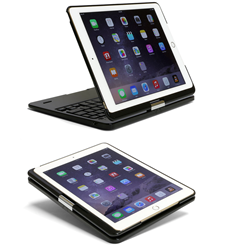 The new and upgraded second generation Flip Turn case offers improved Bluetooth connectivity, a smoother and more durable Flip Turn mechanism and a precision-made durable polycarbonate hard shell case
Chicago, IL (PRWEB) August 12, 2015
The iPad Flip Turn Case from Sunrise Hitek is unique in that it can display the iPad in three viewing modes. It's a tablet! It's a laptop! It's a movie player! Flip it, turn it, and transform the iPad into whatever it needs to be! The new and upgraded second generation Flip Turn case offers improved Bluetooth connectivity, a smoother and more durable Flip Turn mechanism and a precision-made durable polycarbonate hard shell case: https://www.sunrisehitek.com/product/ipad-air2-flip-turn-g2.
The G2 Flip Turn has the same built-in wireless keyboard with rechargeable battery and full body protection - front, back, all corners and sides are covered. Sunrise also kept the auto wake/sleep features extends iPad's battery life, now for an uninterrupted 8 hour battery life! This exclusive Flip Turn Case model for iPad Air 2 is available in matte silver and glossy black colors.
About Sunrise Hitek
Sunrise Hitek's üuber store, formerly known as iGear, is a leading maker of protective gear for Apple's iPad. The brand changed to üuber when the company starting developing cases for other devices, such as the MacBook, Chromebook, and Samsung devices. Sunrise Hitek Group, LLC, owner of the üuber brand, also operates Sunrise Digital, a leading digital printing company based in Chicago. As a G7 Qualified Master Printer, Sunrise is uniquely qualified among protective gear makers to offer a wide array of customization options, ensuring the most consistent and accurate color reproduction. Sunrise is an Inc. 5000 company established in 1988 and employs the most advanced equipment and technology, such as G7-certified HP Indigo and UV flatbed presses, and digital die-cutting, to create best-in-class products. A privately-owned enterprise, the company is based in Chicago and sells products worldwide.