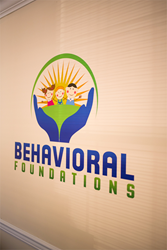 ABA is a treatment that has been scientifically verified as effective, especially when started early
Knoxville, TN (PRWEB) August 06, 2015
Behavioral Foundations, LLC, a behavioral health provider for kids and adults with autism and developmental disabilities, has expanded to a 2500 sq. ft. facility at 120 S. David Lane in Knoxville. The new facility provides individualized therapy rooms and a spacious sensory motor room which includes a swing, ball pit, a mini trampoline, a variety of toys, and the opportunity for kids with autism to socialize with each other.
"When I first started Behavioral Foundations I wanted to serve as many families as possible," said Dr. Melissa Switzer, Owner and Director of Behavioral Foundations. "But it became increasingly difficult to do that while providing only house calls. This new facility allows me to reach more families and expand the type of services we offer like our social groups and peer play programs."
But it isn't only kids and adults with autism that Dr. Switzer services, she's also reaching out to parents to help them get the support they need. Behavioral Foundations will provide ongoing social gatherings for parents such as a monthly coffee social with free childcare so that parents can get to know each other and build a strong community of support for themselves and their loved ones.
"We want to help individuals with developmental challenges become the best they can be," Dr. Switzer said. "But we also want to support the parents who are the foundation of their loved one's health and well being."
And for Behavioral Foundations, the type of therapy provided to individuals with autism is critical in determining how well they develop. That's why Dr. Switzer, who has over 14 years experience and is one of the few doctoral level therapists serving kids and adults with autism in East Tennessee, uses Applied Behavioral Analysis (ABA) to treat autism.
"ABA is a treatment that has been scientifically verified as effective, especially when started early" said Dr. Switzer. "That's why we use ABA as the foundation of the services we provide at our facility. It provides the most effective treatment, even for the most difficult cases."
One of the most difficult cases Dr. Switzer faced was a 10 year old autistic girl who had a history of aggression and self-harm. Using the principles of ABA, Dr. Switzer helped the girl blossom socially, emotionally, and academically.
"One of the biggest issues with that case was that the girl's aggression was partly caused by the way people treated her," Dr. Switzer said. "People were afraid of her and she saw that. Trusting her and giving her the respect she deserved, helped her relax and open up to learning. That's the type of approach we value at Behavioral Foundations—the importance of rapport with our clients."
Behavioral Foundations' 2500 sq. ft. facility had its grand opening on August 3, 2015. Parents are welcome to contact the facility to schedule a tour and learn more about the type of services Behavioral Foundations offers.
Dr. Melissa Switzer is a Board Certified Behavior Analyst and the founder of Behavioral Foundations, LLC. Melissa received her Doctoral degree from the University of Texas at Arlington and has experience working with children and adults in residential, center-based, and in-home treatment facilities.