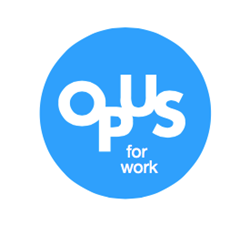 San Francisco, California (PRWEB) September 09, 2015
In an era when the 9-to-5 is being replaced by on-demand jobs, Opus for Work empowers individuals to find flexible work that best fits their individual schedules.
The on-demand economy, commonly defined as 'economic activity created by technology companies that fulfill consumer demand via the immediate provision of a good or service and a smartphone,' has nearly tripled within the last five years, creating tremendous room for new on-demand jobs and employees.
According to a recent McKinsey report,"$2.7 trillion could be added to global GDP by 2025 because of new forms of task-based job platforms. Reasons being: efficiency and transparency, increase in labor participation, adding hours and skill optimization." Given this, Opus for Work's founders realized they could help create a better system for these new workers, starting from the ground floor.
"We started Opus for Work after Zach and I looked for on-demand jobs firsthand. We kept getting duped by Craigslist ads claiming unrealistically high wages and there weren't any resources to help us figure out where to work," says Zoe Weintraub, co-founder and CEO. "So, we created what we hope is a simple, quick job discovery site where you enter your schedule, assets, and skills to get personalized job recommendations that maximize your time. For now, we're focused on easy-to-qualify-for jobs, like ride-share driving and grocery shopping and delivery, but we're quickly expanding into more specialized industries like on-demand IT, accounting, legal help, and more."
Founders Zach Goldfine and Zoe Weintraub met while working as early employees of YC-backed Grouper, a popular dating service that matches groups of friends for fun nights out in the city.In 2015, the duo realized there was a problem that needed to be solved within the on-demand economy, and embarked on a mission to fix it.
Since their start, they've received some initial financing from a few local angel investors. Based on this, they've been able to create a framework that, in the SF Bay Area alone, has successfully helped with over 500 applications from job-seekers that range in age, race, and industry.
Opus for Work hopes to capitalize on the growing interest of this new economy by continuing to maximize its proprietary search algorithm that matches candidates with companies, while also building out additional features for job-seekers. Thus far, they've seen over 50% growth each month with over 18 companies interested in their platform to find candidates. Trustworthy information, simplicity-of-use, and key partnerships are critical in Opus for Work's mission to empower people to choose work that fits their lives.