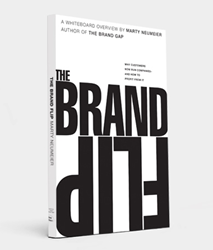 "Marty Neumeier does it again. His finger firmly on the future of branding, he shreds conventional marketing wisdom. Read this book." — Niraj Dawar, author of Tilt, professor at the Ivey Business School.
San Jose, Calif. (PRWEB) August 06, 2015
Liquid Agency, an independent brand experience agency, today announced The Brand Flip: Why Customers Now Run Companies — and How to Profit from It (New Riders, August 3, 2015, $24.99), the latest book by Marty Neumeier, Director of Transformation at Liquid Agency and author of The Brand Gap, Zag, and other books on business creativity. With his trademark brevity and clarity, Neumeier presents the first conceptual framework for understanding brand strategy in an era of extreme customer dominance.
The premise for The Brand Flip is powerful: Customers no longer buy brands. They join brands. They want a vote in what gets produced and how it gets delivered. They're willing to roll up their sleeves and help out — not only by promoting the brand to their friends, but by contributing content, volunteering ideas, and even selling products or services.
"An explosion of connectivity, and the power it givers customers," says Neumeier, "is turning companies upside down. The question isn't whether your industry will be disrupted, but when. Companies today have a stark choice: the can leap into the future and possibly land on their feet, or they can wait for roiling disruption to upend them. Flip, or be flipped."
Neumeier's earlier book on branding, The Brand Gap, has been viewed nearly ten million times on SlideShare, and has sold nearly 100,000 print copies. His new book expands on the The Brand Gap, showing how social media has made its principles even more relevant than when they were first published. The core audience for the book consists of brand strategists, marketers, designers, entrepreneurs, and business leaders.
The book is organized into three parts:

Part 1, "Flipping the Brand," paints a clear picture of how marketing has changed in the last decade. It illustrates major shifts in emphasis from products to meaning, tangible goods to intangible goods, and transactions to relationships.
Part 2, "Leading the Tribe," offers a simple model for moving a business from competing to differentiating, processes to values, and product features to customer experience.
Part 3, "Designing the Way Forward," shows how business leaders can foster greater brand creativity, and gives marketers a tool called the Brand Commitment Scale for measuring progress.
At the heart of the book is the Brand Commitment Matrix, a simple model for connecting six key brand drivers: customer identity, customer aims, tribal mores, company purpose, "onlyness," and company values.
Praise
"Marty Neumeier does it again. His finger firmly on the future of branding, he shreds conventional marketing wisdom. Read this book." — Niraj Dawar, author of Tilt, professor at the Ivey Business School.
"Brilliantly groks how changes in the "human capital" of customers can transform the brand equity of products and services. The Brand Flip is the investment manual for marketers who want to make that human capital even more valuable." — Michael Schrage, author of Who Do You Want Your Customers to Become?
"Marty Neumeier is a master storyteller, making this powerful book as enjoyable to read as it is illuminating. The psychology of consumers has fundamentally changed over the last decade. Marty takes the 'daunting' out of the daunting task of adapting to this change." — Kit Yarrow, Ph.D., consumer psychologist and author of Decoding the New Consumer Mind
"The Brand Flip will absolutely be the new bible of branding." — John Spence, author of Awesomely Simple, and "Top 100 Business Thought Leader"
Reviewer Resources
The Brand Flip: Why Customers Now Run Companies — and How to Profit from It
By Marty Neumeier
Published by New Riders
August 3, 2015
ISBN: 978-0-13-417281-1
$24.99
Available in print and ebook formats at Amazon, Peachpit, Barnes & Noble and other retailers worldwide.
Additional information at Liquid Agency and follow the discussion on Twitter at #BrandFlip.
Media inquiries and book reviewers, please contact Kim Catanzaro, kim(at)liquidagency(dot)com.
About the Author
Marty Neumeier is a brand strategist, designer, writer, and business adviser whose mission is to bring the principles and processes of creativity to business. His previous books include The Brand Gap, widely credited with redefining the role of branding; ZAG, named one of the "top hundred business books of all time;" and The Designful Company, a guide to building a corporate culture around innovation. Neumeier has worked closely with executives at Apple, Netscape, HP, Twitter, Adobe, Google, and Microsoft to advance their brands and cultures. In his current role as Director of Transformation for Liquid Agency, Neumeier advises clients on brand experience and leads workshops on the topics of innovation, brand, and design.
About Liquid Agency
Liquid Agency defines what your brand stands for and creates brand experiences that connect to your customers' hearts and minds. And, they do this with the passion and inventiveness that Silicon Valley is famous for.
While their approach is rooted in design thinking, it is inspired by their experience working with some of the most innovative companies on the planet, including: HP, PayPal, NASDAQ, Keurig Green Mountain, Nordstrom, Facebook, Playstation, Motorola Mobility, and Walmart. In the process, they have learned how to embrace collaboration, challenge conventions, and invent new ways of doing things. They call this Silicon Valley Thinking™.
Liquid Agency has US offices in San Jose, San Francisco, Portland, New York, and an international affiliate office in Santiago, Chile. Learn more at http://www.liquidagency.com.
Liquid Agency. Brand Makers from Silicon Valley.
About New Riders
New Riders is an imprint of Peachpit and part of Pearson, the international media company. Pearson's primary operations also include the Financial Times Group and the Penguin Group. Learn more at http://www.peachpit.com and http://www.pearson.com.
# # #