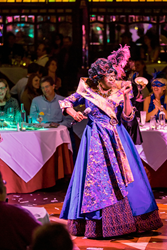 HOLLYWOOD NIGHTS is one sale now and opens September 17 in Seattle.
Seattle, WASH (PRWEB) August 06, 2015
Teatro ZinZanni Seattle today announced the royal flush cast of its fall creation Hollywood Nights – a three-hour whirlwind of love, chaos and dinner served up à la cirque, comedy, and cabaret. Hollywood Nights will feature the long-awaited return of prolific actor and fun-slinger Ron Campbell as well as absurd visual comedian Mr. P.P. Filling out another international cast of unique talents is chanteuse Francine Reed, aerial trapeze artists Ben Wendel (of Duo Madrona) and Terry Crane, opera diva Juliana Rambaldi, master juggler Gamal David Garcia, vaudevillian Wayne Doba, acrobat-dancer Andrea Conway Doba, gorgeous gymnast Elena Gatilova and Chinese Pole acrobat Domitil Aillot. Hollywood Nights is set to open September 17, 2015 (press night Thursday, October 1, 2015) and run through January 31, 2016 at Teatro ZinZanni (222 Mercer Street, Seattle).
Hollywood Nights features co-direction by Teatro ZinZanni founder and artistic director Norm Langill and long-time performer and artistic talent Joe De Paul. The live band includes Hans Teuber (musical director, woodwinds, bass, and everything else); Jose Martinez (drums); Marina Albero (piano); Craig Flory (Woodwinds, Keys, Guitar).
Hollywood Nights is on sale now. Ticket prices start at $99 and can be purchased online at ZinZanni.com/Seattle, by phone (206) 802-0015, or in-person at the Teatro ZinZanni Box Office (open Tuesday-Sunday, Noon-7:00 p.m.).
For full cast list and bio information, visit us here.
For Calendar Editors:
What:
Hollywood Nights
Get ready as Teatro ZinZanni rolls out the red carpet for a night where old Hollywood glamour reigns supreme. When a famous movie director makes reservations at a local fine dining establishment, the restaurants scrambles to get everything in tip-top shape; little do they know that that they will soon play a major role in his upcoming film! Movie stars, stuntman, and production crew arrive on location at the stunning spiegeltent where they will live out their cinematic dreams. The A-List cast features a sous chef that juggles more than plates, a hostess with operatic dreams, servers tapping-away for their 15 minutes of fame, and silver screen stars that take the art of film to new heights.
Lights, Camera, Action! Get your ticket to the star-studded premiere of Hollywood Nights.
Where:
Teatro ZinZanni
222 Mercer Street, Seattle
When:
September 17, 2015 – January 31, 2016
Tickets:
Starting at $99 - on sale now
Box Office: (206) 802-0015
http://zinzanni.com/seattle
About Teatro ZinZanni:
Teatro ZinZanni is an original show, which combines European cirque, cabaret, spectacle, and live music meanwhile serving up a multi-course feast. The show is presented in a gorgeous, climate-controlled, antique cabaret tent (known as a spiegeltent). Imported from Belgium, the spiegeltent is nicknamed the Moulin Rouge. Built in 1910, it boasts stained glass, hand-carved wooden interior columns, polished crystal and mirrors. Guests are seated restaurant-style in this unique venue, and the action of the show takes place throughout the circular structure. The Moulin Rouge comfortably seats 285 guests.