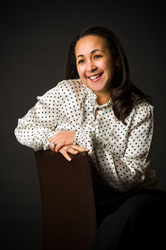 Pennsauken, NJ (PRWEB) August 06, 2015
PharmaVOICE has named Nicole Woodland – De Van to the 2015 PharmaVOICE 100, a list of the 100 most inspiring people in the life-science industry. As SVP, Buying Services & Deliverables, Woodland - De Van sits on the executive board of CMI/Compas.
The PharmaVOICE 100 Top Influencer Issue describes Woodland – De Van as a person whose "ideas not only create new opportunities for her team members and company, but for the industry as a whole. She truly understands the trends and dynamics from how to buy media in the most efficient manner for clients, but also how to lead and guide the supplier/publisher communities into the future."
Woodland – De Van has more than 17 years of experience in the media industry. In 2014, she challenged the norm and used her depth of knowledge to launch the industry's first programmatic buying platform, AdMissionSM. AdMissionSM delivers ads to target physicians when and where a physician is online. It enables better planning, smarter digital media buying, and helps CMI/Compas invest the brand's money more effectively. It is the only tool for optimal digital media buying.
"Nicole's ambition and dedication to challenge the norm and think strategically inspires me daily. We are lucky to have Nicole lead our buying team for over 12 years and are proud to see her recognized with this honor," comments Dr. Susan Dorfman, Chief Commercial Officer, CMI/Compas.
While Nicole leads the organization as an executive, she also works closely with her team on development and success in their individual careers. The majority of Nicole's staff happens to be female, putting her in a position where she is able to continually work to pave the way to success for women in the field. She devotes herself during the workday to the growth of the people she manages, ensuring that each of them enjoy the same career growth.
Woodland – De Van is a thought leader who was recognized in the industry as an HBA Rising Star. She is the keynote speaker at ExL's Programmatic Buying Summit on August 10th, outlining fundamentals on programmatic marketing for healthcare and uncovering the challenges and benefits of using programmatic marketing for healthcare brands.
About CMI/Compas
Well-known as a media planning and buying organization for healthcare clients, sister agencies Communications Media, Inc. (CMI) and Compas, Inc. together form the indispensable strategic marketing partner to the world's game-changers in health, offering guidance at every level of marketing. CMI/Compas focuses on core service offerings of Media, Innovation, Customer Insights, Technology, and Buying. CMI/Compas is laser-focused on helping clients move the promotional needle. CMI/Compas has offices in Philadelphia, PA; King of Prussia, PA; Pennsauken, NJ; and New York, NY. The family of companies is actively recruiting for healthcare marketing jobs via http://www.cmirecruiter.com.