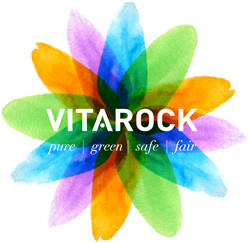 "We need to ask ourselves what kind of world we want to live in." Alicja Wojewnik, Founder.
Toronto, ON (PRWEB) August 06, 2015
On July 28, 2015, Vitarock became certified as a B Corporation, in recognition of Vitarock's mission "to make the world a better place" and its contribution to social and environmental welfare. B Lab, the non-profit organization that created the "B the change" movement, welcomes Vitarock into their growing community of corporations who care.
Beyond Fair Trade
Vitarock is a store for socially-conscious shoppers who want to achieve personal wellness and joy while not harming the planet or contributing to unfair employment and trade practices of farmers and workers around the world. Vitarock.com offers thousands of ethically produced and sourced natural food, personal care products, supplements and household goods that don't harm the health of people or the planet. 1% of Vitarock's revenue goes to support education in indigenous communities in Canada and around the world through its support of Elephant Thoughts, an educational outreach organization. Additional donations are made to local and international social causes.
Vitarock connects shoppers with hundreds of suppliers of fairly traded, certified organic, B Corp, and cruelty-free natural products. Through its awareness raising health blog and Facebook page, the retailer shares its favourite ways to live well, eat well, and thrive with its 14,000+ fans. Content includes reports on the sustainability and social welfare initiatives of the companies whose products they sell. Vitarock.com screens everything they offer, so consumers can relax and know that the products they get from Vitarock will leave the world healthier, cleaner, and safer for all.
What is a B Corp?
"B Corp is to business what Fair Trade certification is to coffee or USDA Organic certification is to milk." (http://www.bcorporation.net) There are currently 1353 B Corporations in 41 countries and 121 industries, with over 100 in Canada, including organizational structures from manufacturing to consulting to utilities. The Business Development Bank of Canada (BDC) is one example of a unique, Canadian B Corp that has incorporated the B Corp movement's philosophies into its central mission and vision.
"Certified B Corporations are leading a global movement to redefine success in business." (http://www.bcorporation.net) B Corporations must undergo audits which examine all aspects of their operations and must include social and environmental welfare goals in their mission statements and day-to-day business practices.
A Perfect Fit
Consumers who share Vitarock's wish for a cleaner, safer, more equitable world are looking for convenient ways to source the products they use. Vitarock meets this demand, known as "ethical consumerism," by delivering sustainable goods from innovative, inspiring product vendors, nine of which are B Corps themselves. Specifically, Vitarock has "done the homework" for these consumers to deliver coffee from a company that's rebuilding schools in Zimbabwe, soap that is supporting San Franciscans who are struggling with addiction, a body & hair care brand that promotes gender equality in West Africa, and much more.
About Vitarock
Based in Toronto, Canada, Vitarock is an online marketplace featuring 1000s of pure, green, safe & fair wellness products. Vitarock is the go-to shopping destination for ethically-minded people who want to make the world a better place while achieving wellness and joy in their lives.