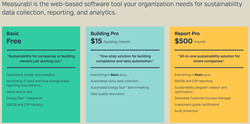 "By providing enterprise-caliber sustainability reporting and analytics at no cost, Measurabl is empowering more organizations to take action and improve their organization's sustainability performance." -Josh Henretig, Microsoft's Senior Director
San Diego, California (PRWEB) August 06, 2015
Measurabl, the enterprise sustainability software start-up has introduced a free subscription plan. The plan, called "Basic", has over 460 subscribers representing nearly 100 companies and allows subscribers to use Measurabl's most popular features like third party data syncs, sustainability reporting and analytics at no cost.
"Our mission is to make investment-grade sustainability accessible to any organization regardless of size or resources" notes Matt Ellis, Measurabl's Founder and CEO. "Eliminating the cost barrier is a major step towards that goal."
Until now, business intelligence and process efficiency software was a luxury only the world's largest companies could afford. But as sustainability requirements have exploded, so has the number of small and medium-sized companies trying to cope. Wal-Mart requires all of its roughly 60,000 suppliers to disclose sustainability performance. Over 46 jurisdictions across the US require real estate owners to disclose on energy and/or water performance, affecting hundreds of thousands of buildings. Compliance costs have risen dramatically across the economy in lock step with the penalties for inaction.
By making the data collection and reporting process free, Measurabl is democratizing sustainability. The goal is to help companies improve resource efficiency and lower adverse social impacts. "The range and complexity of environmental and social reporting requirements faced by companies today is vast and growing" says Josh Henretig, Microsoft's Senior Director of Energy, Environment and Smart Cities, and a Measurabl Board Member. "By providing enterprise-caliber sustainability reporting and analytics at no cost, Measurabl is empowering more organizations to take action and improve their organization's sustainability performance."
ABOUT MEASURABL
Measurabl is sustainability, solved. Our software uses automatic data import technology and a guided step-by-step process to help organizations collect and report data as well as benchmark and improve performance. By making it possible for any organization to act upon sustainability regardless of size, expertise or resources, we're setting the standard for investment-grade sustainability reporting and creating the global market for non-financial data and solutions. To learn more about Measurabl, please contact info(at)measurabl(dot)com or visit http://www.measurabl.com.