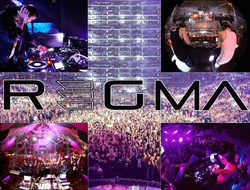 "Genres are dead, there is only music" - Buzzwak
Los Angeles, CA (PRWEB) August 07, 2015
Look no further for the best Electronic Dance Music (EDM) available for licensing. Current Music is proud to have inked an excluive deal to license R3GMA for all media in the US and Canada. R3GMA strives to expose audiences to the latest trends across all genres of electronic music, and provides a community for those who make electronic music the soundtrack to their lives. The R3GMA catalog is proud to include exclusive artists Nanoo, Buzzwak and Silverfox; rising stars in this music scene.
Nanoo is a young producer from Mexico and has been dabbling with EDM since his early teenage years. After years of experimenting with multiple genres, Nanoo has become a regular chart topper with singles such as ' It's a Trap' and 'Skorpeon' which hit #1 on UK's premier electronic music portal TrackItDown.com, as well as Beatport, the world's most prestigious electronic music retailer. With outstanding productions ranging from every sub genre, Nanoo is surgical with his array of sounds. Infused with his own signature style, a combination of powerful bass sound-design and worldly melodies, Nanoo creates a unique blend that cannot be matched.
Buzzwak is a duo who do not consider themselves to be committed to any specific genre, producing a varied and expanding catalog of music that spans from Dubstep, Trap and Electro House, through to more down-tempo and commercial styles, while always remaining true to their particular take on electronic music. The Buzzwak duo claim the following about their work: "Genres are dead, there is only music". Their debut EP 'BUZZ'D' reached #1 on Beatport's Breaks chart, and it's not rare to hear a Buzzwak track included in the sets of some of the scenes most prominent names such as; Far Too loud, Access Denied, Le'ts Be Friends, amongst many others. Buzzwak has performed alongside many main acts, including The Glitch Mob at San Francisco's Loveolution festival.
Alex Berserker bursts into the EDM scene under the alias SILVERFOX. His new sound takes influences from guitar-driven genres such as Funk, Progressive and Rock, and elegantly fuses them with EDM. Silverfox's style is leading a revolution in EDM and bridging the gap between genres. Featuring meticulous melodies and guitar work, his sound has attracted many followers. His talent as a guitar player and flexibility as a producer has lead SILVERFOX to collaborate with some of the world's top EDM artists. SILVERFOX has proven to be a heavy hitter in the game, producing a large body of high-quality work that is hard to match.
Four compilations of R3GMA Artists tracks have now been integrated into Current Music's easy online search engine. At http://search.currentmusic.com clients can type in a descriptive word, listen, make a playlist and download high quality WAV, AIFF and MP3 files. Hard drives with searchable music can also be provided. The company also provides music research experts at no additional cost.
Says Mikeldi Murguia of R3GMA: "We love working with Current Music. Everyone on the team is so dedicated, and they all share our same passion for music."
About Current Music
Maddie Madsen, CEO, and Christian Salyer, CCO, have over 40 years of combined experience building music brands for Universal, Warner Chappell, Blazed Out Music and Imagem. After producing over 300 albums of production music, they launched Current Music in 2013. The company has scored TV series, national commercials, TV theme songs and penned pop songs for artists. In 2014 Current Music created all of the sonic branding for the multi-platform service RADIUS. Clients include Toyota, Wendy's, KFC, Old Navy, Unilever, The Lakers, Disney Channel, Disney XD, Comcast, NBC, NBC Sports, CBS, The CW, ABC, Fox, Fox Sports, Showtime and Golf Channel. Find out more at http://www.currentmusic.com
About R3GMA
R3GMA is a record label and music publishing company specialized in Electronic Music. Since its inception, R3GMA has grown to establish itself not only as an independent record label, but also a lifestyle brand, merchandise, and event-production company. With a fast-growing catalog of over 30 releases, and always at the forefront of the Electronic Music movement, R3GMA represents an international roster of talented artists, which consistently pave the way for new trends.
Media Contact:
Maddie Madsen
+323 813 5944
Maddie(at)currentmusic.com
http://www.currentmusic.com