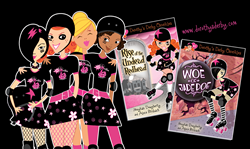 At a time when kids begin to see changes in their bodies, friendships and often confidence, this series uses the lessons of roller derby and 'teamship' to teach confidence and the value of being yourself
Denver, CO (PRWEB) August 06, 2015
The second book in the fun and confidence-inspiring series for tweens, Dorothy's Derby Chronicles' "Woe of Jade Doe," has been released in book stores nationally. In the series, which began with book one, "Rise of the Undead Redhead," the main character, Dorothy Moore, and her pals learn important lessons about being yourself and working as a team while rolling through adventures of mystery and roller derby in this diverse series.
Woe of Jade Doe carries forward the story from the first book where Dorothy Moore—aka Undead Red—finds herself with surprising new friends and an even more surprising sport thanks to Grandma (Shotgun Sally's) roller derby history. Ever since she joined Slugs 'n' Hisses roller derby team life has been one adventure after another. Dorothy's onetime enemy, Alex, is now a friend, while Jade keeps missing practices. Add to that a financial crisis at Galactic Skate where the girls play and the bizarre things happening at the rink, and life gets even crazier.
Co-creators Meghan Dougherty and Alece Birnbach were inspired to use roller derby as a platform for adventure and positive lessons in this new book series. Meghan Dougherty discovered those positive traits of the sport when she joined the Rocky Mountain Rollergirls in 2007, and she still plays today. Rise of the Undead Redhead was written by Meghan Dougherty with Karen Windness and illustrated by Alece Birnbach.
"At a time when kids begin to see changes in their bodies, friendships and often confidence, this series uses the lessons of roller derby and 'teamship' to teach confidence and the value of being yourself," said Meghan Dougherty, co-writer and co-creator of Dorothy's Derby Chronicles. "You don't have to play roller derby to have a roller derby spirit, and all the kids who have told us that they've been waiting for a book like this tells us the time is right for this series."
Booklist Review of Rise of the Undead Redhead
What do you get when you mix a potentially haunted roller rink; a pink-haired, hearse-driving grandma; and girl power? A new series: Dorothy's Derby Chronicles. In this first installment, gothic scenes, creepy language, and clandestine subplots, along with an eclectic roller-derby team, blend easily in a sincere tale of familial love, friendship, and tween crushes. Throughout, the story highlights how roller derby inspires protagonist Dorothy, BFFs Jade and Gigi, and the rest of the team to build confidence, learn individual and collaborative strengths, and, more significantly, discover that it's OK to be different. After all, Dorothy lives in a converted funeral home and has trouble not falling while off her skates, but according to Grandma Sally, "Normal is overrated!" Noting the diversity on her team, Dorothy observes that the players are "different sizes and colors and ranged from conservative . . . to wild women." A motivational read that nicely kicks off a spunky new series.
— Annie Miller
ABOUT THE AUTHORS
Meghan Dougherty owns a local public relations firm, Dougherty Relations, Inc. in Denver. In 2007 she joined the Rocky Mountain Rollergirls roller derby league as Undertaker's Daughter, #DOA, and plays with the Sugar Kill Gang. Alece Birnbach is a professional graphic recorder and a nationally recognized illustrator whose images can be found on hundreds of products nationwide. Co-writer Karen Windness is a professional writer and illustrator who lives in Thornton, Colorado. Meghan and Alece both live in Denver, Colorado. Learn more at http://www.dorothysderby.com.
Sourcebooks Jabberwocky ● August 2015 ● ISBN: 13-978-1-4926-0147-0 ● Trade Paper /$6.99 ● Ages 9 and up