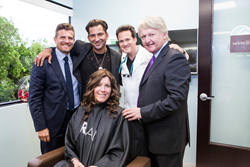 Having my new CNC hair system has totally enhanced my life
(PRWEB) August 11, 2015
Internationally recognized hair loss expert, Dr. Alan J. Bauman, recently opened a new, state-of-the-art trichology and hair system center, salonB, in Boca Raton, Florida, and just hours after the official Greater Boca Raton Chamber of Commerce grand opening ribbon cutting, provided a pro-bono trichology treatment and hair system made with FDA-Cleared components to a young woman undergoing a new, experimental brain cancer treatment.
"Having my new CNC hair system has totally enhanced my life," Genny Robinson said. "This truly is my dream come true – if you were to look at me, you would never be able to tell my hair wasn't natural. I wake up every morning with a smile on my face. As a woman, your hair is a vital part of your every day appearance. Feeling good about the way I look is a blessing, especially at this time in my life, as I face so many other challenges. I am overwhelmed with the generosity of all of the people in Dr. Bauman's office, Martino himself, as well as the staff from Cesare Ragazzi Laboratories."
For many cancer patients, hair loss is a painful reality—a trigger of intense emotions and a daily reminder of the health situation that often seems out of their control. Genny Robinson, a recently married 28-year old woman from New Jersey, is one of just 22 people to undergo an experimental treatment at Duke University for recurrent glioblastoma using genetically engineered poliovirus. Her story gained national attention when 60 Minutes featured this potentially groundbreaking cancer treatment earlier this year. Celebrity hairstylist and philanthropist Martino Cartier, founder of the non-profit Friends Are By Your Side charity, referred Genny to Dr. Bauman for evaluation and treatment of the significant baldness caused by her lifesaving brain cancer treatments now that she is in remission.
During Genny's initial consultation this spring, Dr. Bauman and his team collected measurements, a scalp template mold and other data, conducted dermatologic skin testing for compatibility, and have been in close contact with Genny's medical team at Duke. The Bauman Philanthropic Foundation, Dr. Bauman's non-profit charity, generously created a pro-bono plan to help Genny deal with her hair loss through the use of an advanced custom-made hair and scalp prosthetic.
"While Genny may be a good candidate for hair transplantation in the future, her current health status precludes her from undergoing a hair transplant at this time," commented Dr. Bauman. "Utilizing this new hair replacement system will help this brave young woman overcome her hair loss and feel even more beautiful as she continues her healing—inside and out."
On July 15th, Genny flew from her home in New Jersey to salonB in Boca Raton, Florida, where she received her handcrafted medical hair and scalp prosthetic called CNC, created by Cesare Ragazzi Laboratories in Italy. Genny's Italian hair system was applied by the in-house trichology team at salonB, and styled by celebrity hairstylist Martino Cartier. Considered a medical device by the Italian Ministry of Health, the CNC hair replacement system is much more than just a "medical wig." CNC is internationally known within the medical community as the most sophisticated, highest quality, medical-grade non-surgical hair replacement system.
"As a Hair Restoration Physician, I'm familiar with how much of a psychological boost patients receive from restoring their hair. For patients who are not good candidates for transplantation, the CNC hair system does an amazing job using game-changing technology. It's the highest quality hair replacement I've ever seen—completely indistinguishable from a full head of healthy hair. It was an absolute thrill to see Genny's face light up when she received her CNC and got it styled by Martino. There wasn't a dry eye in the room," said Bauman.
For more information about Bauman Medical's new salonB and this comprehensive trichology program and advanced hair replacement system or to schedule an appointment for either offering, call Bauman Medical at 561-394-0024 or visit http://www.baumanmedical.com/salonb
About salonB:
Trichology is the study of the hair and scalp. By focusing on the health of the scalp and taking care of the hair follicles that live within it, a properly trained trichologist can detect and treat problems before they become noticeable. Trichology treatments done at salonB can immediately address problems as well as optimize the overall health, growth and beauty of your hair. Common problems that can be addressed with custom treatments include dryness, itchiness, flakiness, oiliness and/or the feeling of having a sensitive scalp as well as hair thinning due to breakage or other causes.
When severe baldness is due to a large lesion or injury, an autoimmune condition, or from life-saving medical treatments like chemotherapy, salonB also offers a new non-surgical medical-grade hair prosthesis as a short-term or long-term hair replacement option. The high-end custom-made CNC hair replacement system by Bologna, Italy-based Cesare Ragazzi Laboratories is unlike any other since it uses unprocessed human hairs inserted by hand into an extremely thin and lightweight custom polymeric base. It is ideal for patients with sensitive scalp from chemotherapy or radiation. Secured to the scalp with a non-irritating FDA-cleared medical adhesive and comfortably worn undetectably for weeks at a time, you can wash, dry and style your hair normally and easily enjoy an active lifestyle – without compromises.
Good candidates include men and women diagnosed with alopecia areata, alopecia totalis, alopecia universalis, trichotillomania, or any disease resulting in donor area depletion, chemotherapy, severe scalp injury from trauma, scars, burns, surgery, treatment side-effects or other accidents resulting in severe hair loss. SalonB is located within Bauman Medical in Boca Raton, Florida. To schedule an appointment for either offering, call Bauman Medical at 561-394-0024 or visit http://www.baumanmedical.com/salonb
About Cesare Ragazzi Laboratories:
Cesare Ragazzi Laboratories is an established leader in the field of scientific research into hair and scalp disorders, and the development of effective treatments. Since opening our first private clinic over forty years ago, Cesare Ragazzi Laboratories has treated over a million clients from all over the world. There are currently over 30 clinics operating across Italy, Switzerland and Brazil. Further Cesare Ragazzi Laboratories clinics are opening in the USA, UK and China. Cesare Ragazzi and CRLabs are proud to be working around the world with respected expert physicians and thought leaders like Dr. Alan Bauman who care so deeply about their hair loss patients.
Owned by AdviHair, a subsidiary of AdviCorp Plc., Cesare Ragazzi Laboratories is the established market leader and innovator in hair enhancement—combining unique proven technology with customer empathy. Our total hair care treatment and products can change lives. We are sensitive and thoughtful, providing personalized services and 'healthy hair' products that enable people to look and feel great all day, every day. Our clients have the confidence to enjoy a natural and active lifestyle, feel a positive sense of wellbeing and live life without compromise. http://www.cesareragazzi.com/en
About Friends Are By Your Side
Friends Are By Your Side is the home of Wigs and Wishes. In 1998, Martino Cartier began the journey of changing lives through his career as a salon owner, stylist, educator, and TV personality. On May 10, 2011, http://www.FriendsAreByYourSide.com was born.
Martino´s vision was to join forces with salons across the world and take the pledge to restore dignity to women who lost their hair to chemotherapy AT NO CHARGE. His goal was to find a safe haven for women to go to regardless of their financial situation. Presently, we have hundreds of salons that have made that dream a reality.
Martino´s desire took on a new light when he met Kiki. Kiki was a beautiful girl who had been battling cancer since she was only eight years old. She had been turned down for a wig by a number of foundations.
In April of 2012, Kiki and Martino were introduced when Kiki´s mother reached out to New Jersey State Freeholder, Vincent Nestore, and the rest is history. Martino made a wig for her and the friendship began. Seven months later on November 4, 2012, Martino and http://www.FriendsAreByYourSide.com brought Kiki to meet Justin Bieber. Not only did she arrive in a hot pink stretch limo, but she was also given the chance to hang out with Justin before the show and take some pictures. Following her meet-and-greet, Kiki was given front row tickets and sat on Martino´s shoulders during the entire concert.
The entire day was priceless. One week later Kiki lost her battle to childhood cancer leaving Martino with a broken heart, but a validation that the mission of http://www.FriendsAreByYourSide.com was truly his life´s purpose. Since then, hundreds of wigs have been given and dozens of wishes have been granted thanks to generous people.
About Bauman Medical:
Headquartered in sunny Boca Raton, Florida, the Bauman Medical Hair Transplant and Hair Loss Treatment Center is the world's largest stand-alone medical clinic dedicated exclusively to helping patients maintain, enhance and restore their own living and growing hair. The 11,000 square foot facility offers a full array of leading-edge medical and proven alternative therapies for men and women suffering from hair loss, thinning or other common hair and scalp issues. Treatments and procedures range from minimally invasive FUE hair transplants (including eyelash, eyebrow and body hair transplants) to low level laser therapy, platelet-rich plasma or PRP, FDA-approved and specially compounded pharmaceuticals and topicals (finasteride, dutasteride, minoxidil, prostaglandin analogs), trichology scalp and hair treatments, nutritionals and therapeutic hair care products.
The center was founded in 1997 by Alan J. Bauman, M.D., one of the world's leading experts in hair loss and hair science. Dr. Bauman has treated over 17,000 male and female patients and performed over 7,000 surgical procedures. He is board-certified by the American and International Board of Hair Restoration Surgery, a fellow of the International Society of Hair Restoration Surgery and is recommended by the American Hair Loss Association. Dr. Bauman also played a key role in the early research and consumer testing of Pantene's AgeDefy Advanced Hair Thickening Treatment and served on the prestigious Pantene Hair Research Institute. In addition to operating Bauman Medical and teaching and consulting internationally, Dr. Bauman personally treats patients at his facility in Boca Raton, Florida. http://www.baumanmedical.com