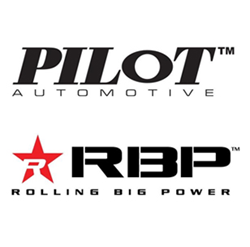 City of Industry, California (PRWEB) August 06, 2015
Pilot is one of the largest manufacturers/suppliers of aftermarket automotive accessories, with over 30 years in business and extensive distribution. RBP, a boutique company started in Southern California, has become one of the premier and most recognizable truck accessories brands in the country.
The integration of RBP into Pilot's advanced infrastructure will lead to an enhancement in RBP's supply and service to the WD (warehouse distribution) segment of the industry. In addition, Pilot-RBP will introduce a new and unique product offering for the specialty retail channel. The combination of Pilot's distribution strength coupled with RBP's trendsetting designs, marketing, and customer loyalty, is certain to drive the truck accessories and re-styling market.
About Pilot Automotive: (http://www.pilotautomotive.com/)
Pilot, is a leading US-based automotive accessories and electronics supplier with key vendor partnerships with major retailers both in the automotive and general merchandise space.
About Rolling Big Power (RBP): (http://www.rollingbigpower.com/)
RBP is a supplier of premier truck accessories based in Corona, CA, but known throughout North America. All performance parts must pass stringent in-house testing and meet the RBP criteria of excellence.
Press/Media Contact
For Pilot: samlee(AT)pilotautomotive.com, or Pilot (626) 937-6988
For RBP: dave(AT)rollingbigpower.com, or RBP (951) 272-9090