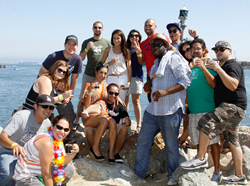 We're celebrating our Fifth Anniversary with substantially more breweries and more styles of craft beer and hard ciders.
(PRWEB) August 06, 2015
More Beer is the 5th anniversary rally cry as Taste of Brews is marking its triumphant return to Lighthouse Park in Long Beach on Saturday, August 22, 2015 with a record 60-plus local, regional and national craft breweries participating. The event infuses more than 120 styles of micro-brews and So Cal's premier mobile restaurants with an amazing ocean-front venue, all benefiting the Long Beach Marine Institute. This incredible tasting experience is expected to sell-out online and offer limited tickets at the gate so don't wait too long to purchase your package of choice. Detailed information is available at http://www.tasteofbrews.com and https://www.facebook.com/tasteofbrews.
Taste of Brews Long Beach features an amazing mix of craft breweries ranging from popular and well-known brands like Stone, Karl Strauss, Fireman's, Shocktop, Blue Moon, Sam Adams and Firestone to startups and newer breweries like Four Sons, Phantom Carriage, St. Archer, Venice Duck. Timeless Pints, Rock Bottom, Beachwood, Belmont and San Pedro are among the local participants. Thanks to the booming growth of craft beer in the Inland Empire, Taste of Brews is luring several IE breweries like Hangar 24, Packinghouse, Black Market and Brew Rebellion. Hard ciders include Angry Orchard, Ace, Reverend Nats, Woodchuck and Washington Gold. Food trucks include Viking Truck, Urban Pie, Bacon Mania and Dogzilla.
"We're celebrating our Fifth Anniversary with substantially more breweries and more styles of craft beer and hard ciders," said event director Mary Doherty. "We're going to build on our history as the original Long Beach craft beer festival by delivering dozens of local and out-of-area breweries for our attendees to enjoy."
Taste of Brews' is a refreshingly classy approach to beer tasting; paying homage to the passion and excitement that today's full-flavored craft beers are generating among consumers while providing an exciting platform to introduce new styles. The upscale event is professionally produced and draws both enthusiasts and novices, and is the crown jewel in a series that includes the Twilight Tasting Series, Taste of Brews Inland Empire and several new events debuting in 2016.
Pricing starts at $37.50 for the 3-hour session (1pm to 4pm) and $47.50 for the 4-hour session (noon to 4pm) which includes beer tastes, plenty of free drinking water, food samples (while available), access to food trucks and live entertainment. Attendees must be 21 or older. A limited number of designated driver tickets are available at the door for $20.
Lighthouse Park is located at 200 Aquarium Way in Long Beach. Parking is $7 at the Pike Parking Structure following validation at the event.
Contacts: Mike Kingsbury, Mary Doherty
mike(at)teammkm(dot)com, mary(at)teammkm(dot)com
MKM, (714) 375-2188