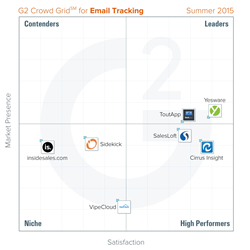 CHICAGO, IL - (PRWEB) August 06, 2015
The first Grid℠ report for email tracking software, published today by business software review site G2 Crowd, ranks seven products to help purchasers in their selections.
Yesware and ToutApp were named Leaders in the report, receiving strong customer satisfaction scores with a large market presence. SalesLoft and Cirrus Insight were named High Performers, earning strong customer satisfaction marks with smaller market presence scores. Yesware earned the highest overall Satisfaction score.
The Grid℠, created from G2 Crowd's software review platform, factors in customer satisfaction reported by users, along with vendor market presence determined from social and public data to rank products. The Summer 2015 report is based on more than 640 reviews written by business and marketing professionals.
Email tracking platforms offer advanced reporting and analytics to track email opens, link clicks, and downloads. Features typically also include email scheduling and reporting for time of open, location, and device type. Sales and marketing professionals typically use email tracking tools to identify optimal engagement points and improve communication with prospects and customers. Email tracking products integrate directly with email platforms; some offer integrations with CRM platforms as well.
Of the roughly 20 software vendors listed in G2 Crowd's category on Email Tracking software, the ranked products each received 10 or more reviews to qualify for inclusion on the Grid℠.
Across all email tracking tools, reviewers reported the product they use meets their requirements at an average rate of 86 percent, and on average reviewers said they were 86 percent likely to recommend the product they use.
Some highlights from the email tracking reviews on G2 Crowd:
"At a high level, Yesware is a focused product that performs well. It is essential in our sales toolkit. [Yesware templates] allow us to maximize our time and craft the right message at the each stage of our sales cycle - from prospecting and to close."

Lauren McCrea, Growth Team Lead at Boomtrain
"[With ToutApp,] I really like that I can track how many times someone has opened my email, if they've clicked on a hyperlink and if [there's] an attachment, it will show what pages they've viewed. It's made strategically stalking much more easy and effective..It's not [over complicated] and can be understood as to how to operate within 10 minutes."

Jady Manibusan, Social Media Analyst at Brandwatch
"[SalesLoft] is very sound and meets a lot of business needs for my sales team. The Salesforce integration is especially beneficial because it allows me to increase my volume of activity without the hassle of switching between platforms to log notes in our CRM...t is key for me to be able to make a large amount of outbound communications and quickly log my results."

Rusty Mcconnell, Account Executive at Cision
"Cirrus Insight does an outstanding job of fusing your CRM, calendar and email into your inbox. The data automation has been very sound so far, which has been a huge hit with our sales reps. Painless setup and integration was also a huge plus -- it's already proven its value to everyone [at my company]."

Jeremy Boudinet, Director of Marketing at Ambition
Satisfaction rankings are generated from the user reviews, and market presence is calculated from vendor size, market share, and social impact. Based on a combination of these scores, each software solution is categorized as a Leader, High Performer, Contender, or Niche.
Access to premium email tracking product research can be purchased on the site for $599. This offers the original data for filtering and weighting, as well as individual profiles of each platform with the most helpful positive and negative email tracking reviews, detailed company information, user satisfaction ratings, feature scores and customer metrics. Future refreshes of the Grid℠ will provide updated rankings based on the latest reviews and social data.
Check out the new Grid℠ for the best email tracking software and subscribe to the premium research.
_______________
About G2 Crowd, Inc.
G2 Crowd, the world's leading business software review platform, leverages its 37,000-plus user reviews to drive better purchasing decisions. Technology buyers, investors, and analysts use the site to compare and select the best software based on peer reviews and synthesized social data. Co-founded by the founder and former executives from SaaS leader BigMachines and backed by roughly $12 million in capital, G2 Crowd aims to bring authenticity and transparency to business technology research. For more information, go to G2Crowd.com.