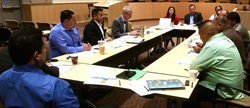 As waste remediation advocates, we strive to understand how we can work with DOE to increase our cleanup funding and get the job done in a timely and cost-effective manner. -Regional Coalition Chair, Commissioner Barney Trujillo
Los Alamos, New Mexico (PRWEB) August 06, 2015
The Regional Coalition of LANL Communities met with Representative Ben Ray Luján (D-NM) on Wednesday morning to review matters related to the communities adjacent to Los Alamos National Laboratory (LANL). Coalition members met with Luján in Los Alamos to discuss strategies to increase government funding for cleanup at LANL Environmental Management (EM) sites, how the Supply Chain Management Center will affect local small businesses, and the impending Department of Energy (DOE) workforce dilemma.
Congressman Luján serves as co-chair of the House Nuclear Cleanup Caucus, the purpose of which is to increase awareness of our nuclear legacy and advocate for environmental cleanup. He has expressed his commitment in the past to work to clean up waste at LANL since the inception of the Manhattan Project in a safe, effective, and efficient manner. Coalition members inquired about how they could strategize to increase the budget allocated to LANL to fund cleanup activities including the chromium plume characterization efforts, soil remediation, and nitrate/transuranic waste (TRU waste) storage and treatment. The LANL cleanup budget has steadily decreased in recent years, and the communities represented by the Coalition are feeling the effects of a lack of funding for environmental remediation.
The newly elected Chairman of the Coalition, Commissioner Barney Trujillo of Rio Arriba County, stated, "We as a Coalition are concerned that the needs of the members of our communities are not being met." Trujillo continued, "As the waste situation goes unresolved, our constituents are the ones who suffer and it will only get more expensive the longer we wait. As waste remediation advocates, we strive to understand how we can work with DOE to increase our cleanup funding and get the job done in a timely and cost-effective manner."
The Coalition also voiced concerns about DOE's increased utilization of the Supply Chain Management Center (SCMC), a centralized system located in Kansas City, MO. The SCMC was implemented in an attempt to reduce spending related to procurement of supplies and services for DOE. As a result of the implementation of the single-source, centralized SCMC system, fewer LANL procurement dollars are staying in New Mexico and local contractors are being awarded fewer contracts, resulting in fewer local jobs.
The Coalition has also been monitoring the impending workforce issue that faces not only LANL, but also DOE complexes across the country. The National Nuclear Security Administration (NNSA) at LANL reported in February 2015 that 32% of the Los Alamos Field Office is eligible for retirement, yet no plan to fill these upcoming workforce vacancies has been announced. The Coalition inquired about how these gaps are going to be filled, as they desire to not only address the issue with an able local workforce, but also hope to contribute to the national discussion and help other DOE and NNSA complexes respond to their hiring needs.
The Coalition will receive a presentation about workforce issues from LANL's Richard Marquez at their next board meeting on Friday, August 14, 2015. The meeting will be held in the Santa Fe County Chambers from 9:00 – 11:00 a.m. and is free and open to the public.
###
For media inquiries, please contact:
Lindi Douglass
806-584-1076
lindi@jlhmedia.com
ABOUT THE REGIONAL COALITION: The Regional Coalition is comprised of nine cities, towns, counties and pueblos surrounding the Department of Energy's Los Alamos National Laboratory (LANL). Founded in 2011, the Regional Coalition works in partnership to ensure national decisions incorporate local needs and concerns. The organization's focus is environmental remediation, regional economic development and site employment, and adequate funding for LANL. The 2015 Board of Directors includes Chair, Commissioner Barney Trujillo, Rio Arriba County; Vice-Chair, Mayor Javier Gonzales, City of Santa Fe; Secretary/Treasurer, Councilor Kristin Henderson, Los Alamos County; Mayor Alice Lucero, City of Española, Commissioner Henry Roybal, Santa Fe County; Andrew Gonzales, Town of Taos; Commissioner Mark Gallegos, Taos County; Governor Earl Salazar, Pueblo of Ohkay Owingeh; and Governor Raymond Loretto, Pueblo of Jemez; http://regionalcoalition.org.