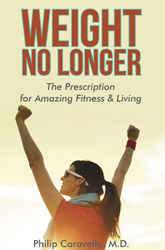 Good health is attainable for everyone and is only limited by negligence or a lack of knowledge
ST. AUGUSTINE, Fla. (PRWEB) August 07, 2015
In the United States, more than 1 in 3 adults are considered to be obese, according to the National Institutes of Health. This alarming number is evidence of the ongoing weight problems and related diseases faced by millions of people, including Type 2 diabetes and cancers.
Dr. Philip Caravella has practiced medicine for more than 40 years and understands the need for conversations not only about patients' physical health, but also the impacts on the insurance industry, the healthcare system, and today's youth.
Based on his extensive background in practicing medicine, research and education, his new book "Weight No Longer: The Prescription of Amazing Fitness & Living," provides readers with easy-to-follow principles that can help prevent and resolve serious health problems.
"While previous takes on these issues focus solely on diets, fitness, and obesity, I feel they've failed to give people the most important tool for success – information," Caravella said. "Good health is attainable for everyone and is only limited by negligence or a lack of knowledge. Education and motivation are the building blocks for success."
Focused on both the currently impacted individuals and the development of healthy habits for children, Caravella strives to separate the medical facts from fiction in order to reverse the steady trend of obesity.
For more information, visit http://www.lulu.com.
"Weight No Longer: The Prescription for Amazing Fitness & Living"
By Philip Caravella, M.D.
ISBN: 9781483430577
Available in softcover, hardcover, e-book
Available on Amazon, Barnes & Noble and Lulu
About the author
Philip Caravella, M.D., has practiced medicine for more than 40 years. He has held many leadership positions in the field of medicine, including the first section chief of family medicine at the Cleveland Clinic, and is an expert in weight loss, exercise, type 2 diabetes and diseases related to obesity. Caravella is a retired lieutenant colonel in the United States Army and also known for his continued work in the military as a medical officer, where he has been identified as one of the oldest people to re-enlist at the age of 64. Caravella currently lives in St. Augustine, Florida, where he is working with the office of U.S. 6th District Congressman Ron DeSantis to help implement government sponsored health programs nationwide.
# # #