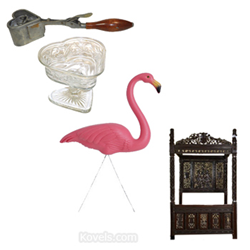 (PRWEB) August 07, 2015
Pink flamingos, a royal bed, an obsessive collector and cool ice cream scoops are the unusual subjects of 8 of the most-read antiques and collectibles stories published on Kovels.com in July 2015. The articles were featured on the Kovels.com homepage or in Kovels Komments, the free weekly ezine. Collectors enjoyed reading about:
1) Top 20 antiques and collectibles searches on Kovels.com for June 2015. Collectibles of most interest from among the hundreds of thousands of searches that took place on Kovels.com. (Kovels.com, Latest News)
2) Royal bed found in parking lot. DNA testing concluded it belonged to King Henry VII. It's now worth millions and valued as a national treasure. (Kovels Komments, July 1, 2015)
3) Cool ice cream scoops are hot collectibles. Kovels.com dishes the scoop on heart-shaped ice cream scoops. They're worth lots of money. (Kovels.com, Latest News)
4) Pink flamingoes made him famous. The artist who designed the iconic pink flamingo lawn ornament died in Massachusetts. The pink flamingo made him financially secure for life. (Kovels Komments, July 1, 2015)
5) Kovels.com new feature, Editor's Picks of the Day. Kovels announces the fun, new feature—five different collectibles, pictured with descriptions and selling prices, posted each day. (Kovels.com, Latest News)
6) Art and antiquities theft is big business. Three stories of theft, looting and smuggling that add up to millions of dollars. (Kovels Komments, July 29, 2015)
7) Ex-mayor charged with using public funds for antiques. An obsessive collector – and mayor of a state capital – helped himself to the people's money for a dream museum. (Kovels Komments, July 22, 2105)
8) Editors pick five top summer flea markets. From Massachusetts to Michigan to California, there are five spectacular markets, renowned for scale, variety of items, negotiable prices and popularity among locals and tourists. (Kovels.com, Latest News)
Collectors who go to Kovels.com can buy knowing the identifying features, marks and prices of antiques and collectibles. Kovels.com and the book, "Kovels' Antiques and Collectibles Price Guide," list thousands of collectibles in hundreds of categories that are described, edited, priced and pictured.
Terry Kovel is America's foremost authority on antiques and collectibles. She is the well-known columnist and author of more than 100 books on antiques and collecting. With her daughter, Kim Kovel, she co-authors the best-selling annual "Kovels' Antiques and Collectibles Price Guide." The 2015 edition is now available in bookstores and online. They will discuss antiques and collectibles topics with accredited media. Photographs are available. Contact pr(at)kovels(dot)com.
About Kovels.com
Kovels.com, created by Terry Kovel and Kim Kovel, provides collectors and researchers with up-to-date and accurate information on antiques and collectibles. The company was founded in 1953 by Terry Kovel and her late husband, Ralph. Since then, Kovels' Antiques has written some of America's most popular books and articles about collecting, including the best-selling "Kovels' Antiques and Collectibles Price Guide," now in its 47th edition. The website, Kovels.com, online since 1998, offers more than 1 million free prices, and includes a free weekly email, "Kovels Komments." It gives readers a bird's-eye view of the market through the latest news, auction reports, a Marks Dictionary, readers' questions and answers, and much more.
Contact Information:
Liz Lillis
216.752.2252
Pr(at)kovels(dot)com