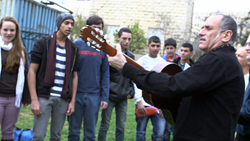 "While collaborations like this aren't unprecedented, the timing and scope of this project has far-reaching effects. The album is good; the making-of documentary is extraordinary." – Vanity Fair
New York, NY (PRWEB) August 11, 2015
Film Movement, the New York-based film distributor of first-run, award-winning independent and foreign films, announced today its acquisition of East Jerusalem West Jerusalem (Israel, 2014, 80 minutes), the inspiring documentary produced by Vice Versa and directed by Erez Miller and Henrique Cymerman and featuring the music of Israeli singer-songwriter and activist David Broza. The film, which is about the making of Broza's seminal Steve Earle-produced 2014 album of the same name, world premiered at the Woodstock Film Festival and will have a continuing festival run, as well as a limited theatrical run followed by release on VOD, digital download and DVD.
Film Movement, which has acquired all North American rights to the film (as well as international airline rights), signed the deal with David Broza's production company David in the Lion's Den. Broza negotiated the sale with Michael E. Rosenberg, President of Film Movement.
"I am thrilled that Film Movement will be releasing East Jerusalem West Jerusalem," said Broza. "Their passion for the project and strategy to engage audiences across North America are incredibly exciting. This is a great moment for all those who worked with me on the film and album."
In January 2013, Broza, the internationally-acclaimed musician "frequently called the Israeli Bruce Springsteen" (Vanity Fair), rented a recording studio in the predominantly Palestinian sector of East Jerusalem. For eight days and nights, Broza and musicians from Israel and Palestine – including Issa Freij, Mira Awad, and the rap duo GTown – participated in a marathon recording session under the direction of Grammy Award-winning performer Steve Earle. Pausing only to indulge in each other's local cuisines, the group discovered the universal power of music, even within a longtime war zone, and Broza realized a dream of Palestinians and Israelis creating a dialog through music.
"While collaborations like this aren't unprecedented, the timing and scope of this project has far-reaching effects. The album is good; the making-of documentary is extraordinary," observed Vanity Fair.
Born in Haifa and raised in England and Spain, David Broza is the grandson of Wellesley Aron, one of the cofounders of the Arab-Israeli peace settlement Neve Shalom – Wāħat as-Salām (The Oasis of Peace). Engaged throughout his career in humanitarian causes, Broza has been a Goodwill Ambassador for UNICEF as well as a multi-platinum selling musician, known for albums such as "Woman by My Side" and "Todo O Nada." His musical style encompasses rock and folk and showcases everything from Flamenco-inspired rhythms to lightning-speed finger-picking. Javier Ruibal and Townes Van Zandt were mentors, and when Van Zandt passed away, he left Broza his unpublished poems which later became the record "Night Dawn." Broza met Steve Earle through Van Zandt, sparking the collaboration on the engaging and intimate East Jerusalem West Jerusalem.
"Film Movement is pleased to bring this inspiring film to audiences in North America," said Rosenberg. "David Broza's timely film is filled with wonderful music and heart-warming as well as heart-rending moments."
Film Movement's recent acquisitions include Zachary Treitz's Men Go to Battle, Matt Sobel's Take Me to the River, and Shim Sung-bo's Sea Fog (Haemoo).
###
About Film Movement
Launched in 2002, Film Movement is a full-service North American distributor of award-winning independent and foreign films, based in New York City. Film Movement has released more than 250 feature films and shorts from 50 countries on six continents, including top prize winners from Sundance, Cannes, Venice, Toronto, Berlin, Tribeca and other prestigious festivals. Film Movement releases its films through numerous distribution channels, including thousands of art-house cinemas, universities and libraries; home video; television outlets; Cable Video on Demand (including its very own branded cable VOD platform—Film Festival on Demand -available in over 40 million US homes); In-flight Entertainment; and broadband outlets. For more information, please visit http://www.filmmovement.com
About Vice Versa
Vice Versa is a Tel Aviv based production house for narrative feature films, TV series, shorts, and documentary projects in all media. Since 2009, Vice Versa has produced award-winning films which have been shown worldwide, including EAST JERUSALEM WEST JERUSALEM (2014), NEVER TURN YOUR BACK ON SPARKS (2014), NOT YOUR LIFE (2013), CHICKEN SOUP WITH KNIVES (2012), RUNNING MOVIE (2011), and LOOKING FOR MOSHE GUEZ (2011). For more information, please visit http://www.viceversa.co.il.