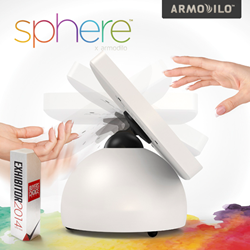 The growing use of tablets in enterprise, corporate and retail environments has created the need for secure yet inviting tablet enclosures. Armodilo removes traditional barriers industries sometimes face
Waterloo, ON (PRWEB) August 07, 2015
Armodilo Display Solutions (http://www.armodilo.com) announces Phil Searles has joined the organization as Director of Sales and Marketing to further develop programs and initiatives to manage the growth in global demand, diverse network of customers, and alliance partners.
Phil brings years of experience developing sales and marketing programs for a range of leading international technology and communications companies where he was known for taking on challenging assignments to develop new markets, and was recognized for developing non-traditional markets resulting in net-new revenue opportunities.
In addition to the years of experience in the enterprise arena Phil recently spent two years playing a key role successfully establishing a local start-up company, developing regional and national sales and marketing programs from the ground-up.
Phil commented "The growing use of tablets in enterprise, corporate and retail environments has created the need for secure yet inviting tablet enclosures. Armodilo removes traditional barriers industries sometimes face, allowing practically any industry to benefit from the design and functionality of the displays. The diverse nature of our product exposes us to limitless opportunities. I look forward to working with our alliance partners, our customers and industry colleagues to harness that potential and bring the Armodilo solution to industries around the globe.
Armodilo has a well-earned reputation for excellence in customer satisfaction for product quality and leading customer service. I am excited to join such a talented and disciplined team."
About Armodilo Display solutions
Armodilo Display Solutions is a multiple award-winning tablet display manufacturer located in Ontario, Canada. With a variety of tablet display stands and accessories for trade show, event, retail and corporate markets, Armodilo sets itself apart by creating highly refined products for discerning brands around the world.