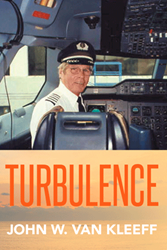 My life has not been conventional, and I've learned that even with a difficult childhood, people can still find a way to achieve their dreams
Fort Lauderdale, Fla. (PRWEB) August 07, 2015
John van Kleeff grew up without a consistent home. Faced with personal and cultural obstacles, he focused on his passion for flying and let it be his guide through struggle.
Van Kleeff's global journey began when he was six years old, when his father forced him away from the family to go live with foster parents across the world in Holland. Thrown into a new country with unknown caretakers, van Kleeff was forced to acclimate quickly, including learning another language – his fourth at the time. The adaptation skills he developed as a young boy helped him later in life during his various careers in the aviation industry.
"While my home life was constantly in upheaval, my passion for flying was consistent," van Kleeff said. "My life has not been conventional, and I've learned that even with a difficult childhood, people can still find a way to achieve their dreams."
For van Kleeff, his dreams of flying took him from the United States Army and the Vietnam War to owning a German flight school and working in Saudi Arabia as the pilot for business tycoons, sheiks and other high-profile people in the Middle East, including the Bin Laden family.
In his new memoir "Turbulence," van Kleeff shares details not only about his unique flying experiences throughout the decades, but also reveals the impacts of his childhood uprooting, self-reliance and constant cultural changes. By highlighting his roles in the military, aviation industry and various global companies, van Kleeff proves that personal and professional success takes effort, time and honesty.
For more information, visit bookstore.xlibris.com.
"Turbulence"
By John W. van Kleeff
ISBN: 978-1-49903-508-7
Available in softcover, hardcover, e-book
Available on Amazon, Barnes & Noble and XLibris
About the author
John W. van Kleeff is a former airline captain, whose last position before retirement was a 20-year career with American Airlines. He served in the United States Army during the Vietnam War, ran a flight school in Germany and worked as a private pilot for many high profile families in the Middle East. He has traveled to more than 50 countries and worked in at least nine, including Holland, Germany, Saudi Arabia and Vietnam, and he has learned more than seven languages. Van Kleeff currently lives in Fort Lauderdale, Florida, and continues to travel.
# # #