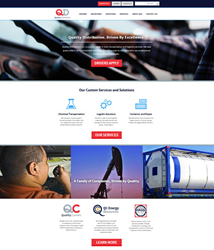 The launch of the new websites, is part of our organizations ongoing efforts to enhance the quality and availability of our company resources, said Quality Carriers President Vice President of IT, Cliff Dixon
Tampa, Florida (PRWEB) August 11, 2015
Transportation and logistics leader, Quality Distribution Inc. (QDI) and its partner, awarding winning web development and interactive marketing agency Bayshore Solutions, are excited to announce the launch of its newly redesigned website, which can be found at http://www.QualityDistribution.com. In addition to the Quality Distribution Inc. website, Bayshore Solutions also simultaneously designed and built a custom website for QDI's primary transportation provider bulk chemical hauling subsidiary, Quality Carriers Inc. (QC) which can be found at http://www.QualityCarriersinc.com. Although each website offers uniquely specialized content and custom tools, both websites were redesigned, in part, to increase brand awareness and online presence.
The Quality Distribution Inc. website provides users with easy navigation, along with in-depth information regarding QDI's extensive business lines and services, history and industries. It also showcases a unique investor relations piece, and provides potential employees extensive resources to learn about the benefits of being a QDI employee, in addition to searching for open positions and applying directly online.
The Quality Carriers Inc. website highlights the driver service opportunities within the company, both in messaging and tools. It aims to give potential qualified drivers who are seeking employment, an opportunity to learn more about the types of driver positions available, and the requirements to become a Quality Carriers driver. In addition, the new website also showcases a custom interactive tool allowing potential employees to search every U.S. terminal location and find an associated recruiter. The custom website also features the My QCI portal, that provides customers with access to their shipment information in real time, and allows them to search and track existing and completed orders.
"The launch of the new websites, is part of our organizations ongoing efforts to enhance the quality and availability of our company resources," said Quality Carriers President Vice President of IT, Cliff Dixon. "Providing quick and easy access to essential information for our customers, investors, employees and potential drivers, has been among our highest priority as we streamline our resources, to better serve all of our partnerships."
In addition to the new websites, Quality Distribution Inc. will continue its partnership with Bayshore Solutions, to custom build websites for affiliate subsidiaries QC Energy Resources and Boasso America. Bayshore Solutions also continues to serve as the company's digital marketing service provider, managing search engine optimization, social media and associated online efforts that promote the websites, drive new leads and traffic.
About Quality Distribution Inc.
Founded in 1913, Quality Distribution Inc. (QDI) began as a small operation hauling lime and milk. Today, QDI is operating the largest bulk tank truck network in North America. Located in Tampa, Florida, QDI still maintains the importance of being available, reliable, and dependable to their customers and employees. The family of companies at Quality Distribution includes Quality Carriers, QC Energy Resources and Boasso America, among others, providing services for many of the Fortune 500 companies in the chemical industry, including Dow Chemical Company, Procter & Gamble, and PPG Industries. To learn more about Quality Distribution Inc., visit our new website at http://www.QualityDistribution.com.
About Quality Carriers Inc.
Quality Carriers Inc. (QC) has been in the business of transporting goods and material bulk chemicals for more than 100 years. As a member of the Quality Distribution Inc. family of companies, QC operates the largest bulk tank trucking fleet including over 2,500 trucks and 6,400 trailers in North America. With a network of more than 100 company-owned and affiliated terminals and facilities in key locations throughout the U.S., Canada and Mexico, QC provides extensive opportunities and support for its drivers. In addition to promoting industry leading delivery standards for its customers, QC also strives to be a leader in driver safety and opportunities. To learn more about Quality Carriers Inc. visit our new website at http://www.QualityCarriersinc.com.
About Bayshore Solutions
Digital design and marketing agency, Bayshore Solutions offers award-winning capabilities in custom web design, digital marketing, e-commerce, search engine optimization and internet application development. Founded in 1996, the website design company has delivered custom web applications to over 1,900 clients in 54 countries. Bayshore Solutions integrates technology and web marketing services to ensure measurable results for clients. For more information about website design and Internet marketing services visit http://www.BayshoreSolutions.com.