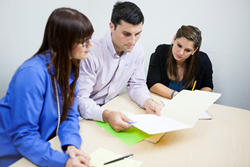 CSUSM has over a decade of experience in preparing HR professionals to prepare for and pass these exams -- Mike Schroder, CSUSM Dean of Extended Learning
San Marcos, CA (PRWEB) August 07, 2015
San Diego Human Resources professionals looking to increase their marketability with new skills and certification will soon be able to take advantage of an updated certification preparation program offered by California State University San Marcos Extended Learning. The revamped program, which will begin this fall, was created by the Society for Human Resource Management (SHRM) and is offered in partnership with CSUSM to help prepare professionals for the new competency-based credentials offered by SHRM: SHRM Certified Professional (SHRM-CP) and SHRM Senior Certified Professional (SHRM-SCP). The CSUSM program will get students ready for the challenge of these new certification exams, which will be offered in January 2016.
"SHRM is committed to ensuring that the certifications our certificants receive are recognized as best-in-class and distinguish them in the marketplace. We regard the SHRM-CP and SHRM-SCP as the new standard in certification for the HR profession," explains Robert Carr, SPHR and SHRM Senior Vice President. "CSUSM has over a decade of experience in preparing HR professionals to prepare for and pass these exams," adds Mike Schroder, Dean of Extended Learning at Cal State San Marcos. "Our students consistently earn high passage rates and achieve a remarkable level of success in the field."
Whether you are already working in a management role or you are interested in transitioning to a career in Human Resources, the HR programs at CSU San Marcos offer numerous benefits. A low student-to-teacher ratio means that students receive direct attention from the program's highly experienced instructors, and an interactive classroom experience with applied learning exercises helps to increase students' hands-on knowledge. Graduates of the CSUSM Human Resources programs not only increase their skills and earn credentials, they also develop strong networking bonds with both the instructors and their fellow learners.
Enrollment for the Human Resources Certificate program is now open for fall 2015, with classes beginning on September 21, 2015. Held at the CSUSM San Marcos campus, the courses are conveniently scheduled from 6 to 9 pm on Monday evenings to accommodate students' work commitments. The program fees include all course materials, supplemental study materials, and parking, and current SHRM members are eligible for a reduced rate. To learn more about the SHRM-CP/CSP Certification Preparation program call 760-750-4002 or visit http://www.csusm.edu/el/certificateprograms/bpdev/humanresources/index.html.
ABOUT CSUSM EXTENDED LEARNING
As the academic outreach arm of Cal State San Marcos, Extended Learning is a leading provider of professional and continuing education in North San Diego and Southwest Riverside Counties. Offering degree programs in fields such as biotechnology, as well as both academic credit and noncredit professional enrichment courses, Extended Learning helps individuals and organizations achieve their educational and training goals. For more information about Extended Learning at CSUSM please visit http://www.csusm.edu/el/.