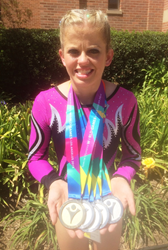 "Special thanks to Easter Seals for helping her to make this dream come true." Julie's mom, Jeanie Allen
Valdosta, Ga (PRWEB) August 08, 2015
Julie Doss returned home Monday night from the 2015 Special Olympics World Games held in Los Angeles, Ca. Seven thousand athletes from 179 countries participated in the World Games. Julie competed in Artistic Gymnastics along with over 105 other artistic gymnasts.
When the competition dust had settled, Julie had around her neck five coveted medals winning Gold in Vault, Silver is Bars, Beam and Floor along with Silver in all around competition. Being one of only nine on the USA Gymnastics Team, Julie says that she loved every minute of her time in Los Angeles.
Julie is very thankful and appreciative for everyone that helped make this dream become a reality and wanted to thank Easter Seals Southern Georgia for their assistance in her preparation to compete. She was able, with support from Easter Seals, to have private lessons at the YMCA two hours a week for the past three years. Along with the private lessons she trained three nights a week with the Valdosta-Lowndes YMCA Dosta Dynamics Team giving her a total of 11-12 hours a week in the gym.
Julie is 28 years old and was born with William Syndrome. She graduated from Tift County High School in 2007. She danced with Carolyn Ellis School of Dance for 12 years and was a member of All That Glitters Dance Troop for 7 years. She took Gymnastics with South Star in Tifton and Fitzgerald under Coach Julie Gibbs. Julie is the daughter of Jeanie & Larry Allen of Lake Park and the late Jimmy Doss of Tifton.
Easter Seals Southern Georgia provides exceptional services, education, outreach, and advocacy so that people living with autism and other disabilities can live, learn, work and play in our communities. To read more about our services and programs call our office at 229-439-7061 or go to our website at http://www.easterseals.com/southerngeorgia/.