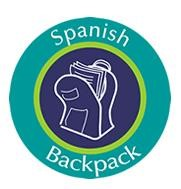 Costa Rica (PRWEB) August 11, 2015
Believe it or not, Spanish is the fourth most widely spoken language in the world only behind English. While learning a new language is exciting, it can also be downright challenging to master without the proper tools in place. That's where SpanishBackpack.com comes into play.
"Our goal at SpanishBackpack.com is to provide Spanish teachers and Spanish students with a fun tool to complement the classroom," stated Any Kaufman, the platform's co-creator. "It's our firm belief that the more a student enjoys the material, the more they'll learn."
This innovative new web site will bring the excitement back into teaching Spanish by serving as the perfect classroom management tool. SpanishBackpack.com acts as a teacher's resource library and homework assignment vault, allowing teachers to effortlessly choose from thousands of new exercises and vocabulary lists for students.
The dynamic site also allows teachers to evaluate a student's progress, share creative content with students, provide feedback and maintain contact with them even when they're not in class. Their latest feature, a class news feed of sorts, helps the teacher keep the most relevant information right before the students' eyes – while providing a social platform for them to communicate with each other – in Spanish, of course.
"Another key characteristic of SpanishBackpack.com is how we've integrated audio into just about all aspects of the tool," explained Kaufman. "Not only do practice exercises make extensive use of audio clips recorded by native Spanish speakers, teachers can create their own exercises as well."
Students have easy access to SpanishBackpack.com, and can get started on the platform within a matter of minutes. Once connected, students can easily practice their oral comprehension, track their performance and communicate with their teacher as needed.
Ease of use and overall quality are key features of SpanishBackpack.com. Best of all, it's very affordable. Priced as low as $150 per teacher per year, the platform is currently available to Spanish teachers all over the globe. It also comes with a FREE one month trial.
About SpanishBackpack.com: SpanishBackpack.com is a service provided by Conversa, a school dedicated to teaching Spanish as a second language since 1975. The team behind SpanishBackpack.com has been teaching Spanish as a second language for forty years, first through an immersion program in Costa Rica, and later through live, online classes.