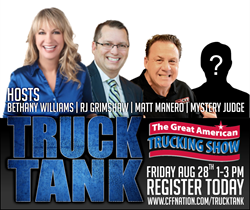 This is an amazing opportunity for a trucker to get their dreams funded!
Carrollton, TX (PRWEB) August 07, 2015
Commercial Fleet Financing, Inc., an industry leader in new and used equipment financing, has released the names of the judges for Truck Tank 2015. The judges panel will include author, speaker, small business expert and host of Home Made Money, Bethany Williams, RJ Grimshaw, President and CEO of Unifi Equipment Finance headquartered in Ann Arbor Michigan, Matt Manero, President of Commercial Fleet Financing, Inc., author of The GRIT and host of The GRIT Radio Show and a fourth special guest judge, TBA.
Truck Tank is a "Shark Tank" style investor panel and pitch contest specific to the transportation industry. The Truck Tank will offer "truckerpreneurs" a chance to pitch their business idea to the esteemed Truck Tank judges at this year's Great American Trucking Show (GATS) held in Dallas Texas on August 27, 28, and 29.
Truck Tank gives industry entrepreneurs or "truckerpreneurs" a platform to present their small business idea, whether big or small. The contest will be held on Friday, August 28, 2015 from 1 - 3pm in the Recruiting Pavilion at GATS 2015. The panel members will have the opportunity to fund entrepreneurs' business ideas onsite and the winner will leave with no less than a $5000 investment from Commercial Fleet Financing, Inc. and one year of business coaching from Bethany Williams. CFFNATION has launched an informational web page with registration details for those who are interested in pitching in the Truck Tank. Visit http://cffnation.com/trucktank/ for more information.
"This is an amazing opportunity for someone to take an idea and run with it. I've had times in my life that I struggled, as a single mom, barely getting by to finally breaking through to achieve amazing success. I know what it's like to want to strike out and do something different but you need a kickstart.
I've helped companies grow that started with zero dollars as well as helping companies that are making millions to double in size. That's what I do. I help unlock futures that are beyond your wildest dreams. That is the reason behind the show Home Made Money on CFFNation. We are growing dreams and helping the transportation industry create an additional 50-60K in money a year in their pockets." Truck Tank Judge Bethany William commented.
Commercial Fleet Financing, Inc. (CFF) is headquartered in Carrollton Texas and is an industry leader in new and used equipment financing. CFF operates CFFNATION.COM, the first online digital network designed to educate, inform and entertain the massive transportation industry. CFF is celebrating 20 years in business and is the recipient of the 2014 Inc. 500 - 5000 Fastest Growing Private Companies in America. With over $100,000,000 in annual funding of commercial vehicles like box trucks, cargo vans, big rigs, tow trucks, dump trucks and construction equipment, CFF is a leader in the equipment finance market. For information visit https://cffnationwide.com.
Click Here More information about Truck Tank 2015
Company: Commercial Fleet Financing, Inc. | CFFNATION
Media Contact: Jenna Brauer
Phone: 469-215-0200
Email: jbrauer(at)cffnationwide(dot)com